If God is homophobic, as many believe, why did he create homosexuals?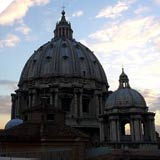 By Mark T – May he RIP
As the early morning sunlight chases the shadows from the empty streets of the Vatican City, it also illuminates the path of Alfredo Ormando as he makes his way to the entrance of the Basilica and kneels down as if to pray. The date is 13 January 1998. There, before God and the Roman Catholic Church, just as the 39-year-old gay Italian writer had planned, Alfredo sets himself aflame, receiving the burns which lead to his death. My mind's eye, fleeing this horror, follows the sun back along his path through Rome and I imagine I see a slug-like trail of the gasoline whose flames consumed Alfredo's body. A small pool of it seems to gather in the ruts between the cobblestones and reflected in that puddle my mind fancies it sees an oily rainbow. Somewhere, somewhere over that rainbow Alfredo's God watches on.
Religion
Being a Roman Catholic before he killed himself, Alfredo Ormando had a very definite idea of who and what that God was. He saw Him as creator, father, all powerful, all forgiving—well usually—and, fatally, Alfredo saw Him as homophobic. All his life Alfredo would have been told that homosexuality is 'an abomination', that it is 'detestable', equating it with men who 'abandoned natural relations with women' and gave into their 'shameful lusts.' Essentially the Roman Catholic Church would have told him that homosexual acts were 'contrary to the creative wisdom of God.'
Of course the Roman Catholic outlook is not the only perception of God. Of the other Christian doctrines, the majority also denounce homosexuality or, technically, homosexual acts. The Church of Ireland, Presbyterians, Methodists and others would likewise point to the Bible and call homosexuality 'an abomination'. These groups teach their members to view God as loving all, but hating homosexuality (as opposed to homosexuals). A similar situation arises in Judaism, where passages in the Torah, especially in Leviticus and Deuteronomy, have been interpreted to read as condemnations of homosexuality. In the Quran, the book of the Islamic faith, homosexuality is again prohibited, with a re-iteration of the phrase 'an abomination' appearing in passages about the people of Lot, and Muslims are taught to believe that God hates gays.
In each of these doctrines homosexuals are urged to ignore or forsake their orientation in favour of living healthy, 'normal' heterosexual lives, or to at least exist in celibacy.
A personal perspective
However, I did not set out to write an article about religion. I wanted to look at God and see what I, personally, think His feelings on homosexuality might be. I realise that it is difficult to make a distinction between God and religion, but when someone says to me homosexuality is 'contrary to the creative wisdom of God' I simply have to ask: 'The wisdom of God as interpreted by whom?'
And so I have decided to interpret that wisdom for myself. Alfredo Ormando, and countless other gay men and women, have brought about their own deaths because they were raised to believe in a God who couldn't, or wouldn't, accept who they were as people. Surely this is the real abomination.
My own faith is quite different. I should warn you, I was raised as a Roman Catholic, but I typically label myself agnostic and I am in no way certain of the existence of God. However, if He does exist, I will not accept that He exists as a homophobe.
Love
Firstly, most religions say that God is our creator. Well, with me God created a homosexual man, and in me created the love of other men. I did not ask to be this way not do I know why I am this way (though I love being this way) but I am. I cannot believe that a God would give me that love and insist I do not embrace it.
As a child I was instructed that the greatest good in the world was the love of God. Indeed, God Himself acted on the love: 'He so loved the world He gave His only son'. I sincerely believe that love is something of pure goodness in this world, regardless of who it is between.Ê And to go out and find that love, to act on it and share it, surely that is what any God intended us to do. He did not want us to bury it in the back garden but rather accept it this gift and honour our creator by using it.
Sex
This brings me nicely to the topic of sex. Most religions will tolerate homosexuals but declare that all homosexual acts are sinful. In specific circumstances heterosexual acts are to be encouraged. I don't agree with this either. God created in each human the desire for sex, which nature uses for the procreation of the human race.Ê However, few people would criticise all heterosexual acts which did not have reproduction as their aim. So how can we censure all homosexual acts which cannot lead to procreation. Sex can be about so much more than babies, it allows us show our love for someone and is perhaps the ultimate way to share yourself with that person; spiritually, emotionally and physically. It can be an affirmation of that great good: love, and a mark of respect to the God who gave us this love. In which circumstances this is the case for you (as a homosexual) I will leave to your good selves (i.e. in a long term relationship vs a one-night-stand) but to say that homosexuals must abstain entirely is insupportable.
So where can we queers go?
Religion, as I mentioned earlier, has said that homosexuality is 'contrary to the creative wisdom of God'. Again I ask 'as interpreted by whom?' God made the world, or so they say, and in it is quite a large number of gay people. I find it rather arrogant to consider this obvious fact a mere overlooked error on the part of an omniscient omnipotent deity. God gave us attraction which exists entirely without action, how can this intrinsic trait be seen as opposing the intentions of God.
However, if, as a homosexual, practising or non, you wish to join a religion and have some assistance in the spiritual department, without being chastised from the pulpit, then you need not be alone. My research has indicated that most schools of Buddhism view homosexuality in the same light as heterosexuality and ask only if your actions are inspired by good intentions. Buddha strongly encouraged his followers to 'be a light unto yourself'. In Judaism many synagogues at local level are making strides toward acceptance of gay and lesbian members. In Christianity the United Church of Christ and the Unitarian Universalist Association fully accept homosexual members with equal rights and privileges.
Unfortunately, however, most Christian religions have still not resolved the issue of homosexuality and will not administer the sacraments to practising gays. In Roman Catholicism this practice may change over time with the imminent arrival of a new pope, or it may not. You may chose to remain a practising Roman Catholic and a (secretly) practising homosexual, resolving this conflict privately between you and your God, and if you do I commend you. Many your members in our churches are doing this and it will hopefully lead to an eventual change in the church's official outlook. But at present this conflict leads to great distress for many of us in the gay community worldwide. As it did with Alfredo Ormando.
I envisage him now, high above that rainbow, at the foot of the God he believed in so ardently. I see God weeping over the lost life of the man He loved, one of His flock, and I imagine God's anger at the foolishness of Man to so misconstrue His intentions. I see Him embrace Alfredo, I see the burns leave the body of this gay man, I see the scars flee his soul, and I see him finally being free to love, love whomsoever he wishes to love.
Trackback from your site.