Genuine Deception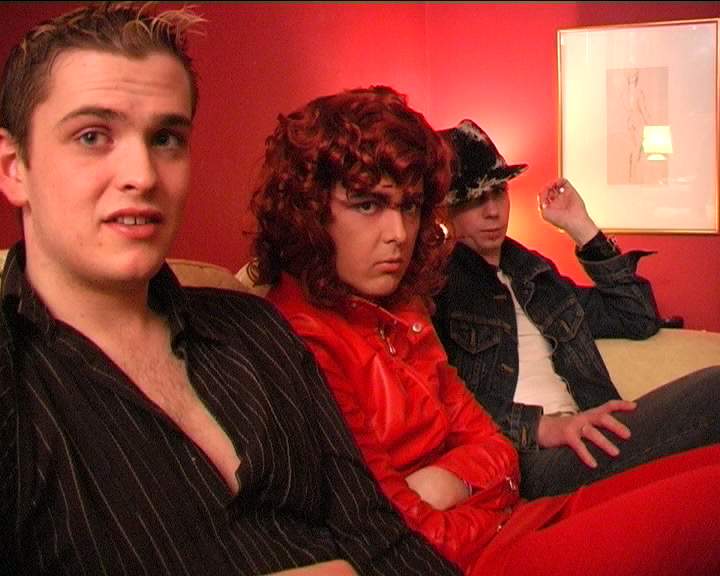 GayCork.com caught up with Richard to hear all about the latest Cork made gay film.
Interview by dermographik
Tell us about the new film.
With 'Take a Chance on me' we just shot it, it was totally unscripted, and it was done by people from the scene and by the LGB from UCC as well. We just said we will give it a shot and play it in January, one showing only. Since then people were interested in it and kept coming back to us and asking us, when are ye doing the next film? So we decided to go and do it more professionally this year.
It went back to last May where we came up with a story-line. We asked people would they be interested in writing a dialogue for the film. We sat down for four months from May to early September. We developed the story and the dialogue giving each person who was writing a different character to write for.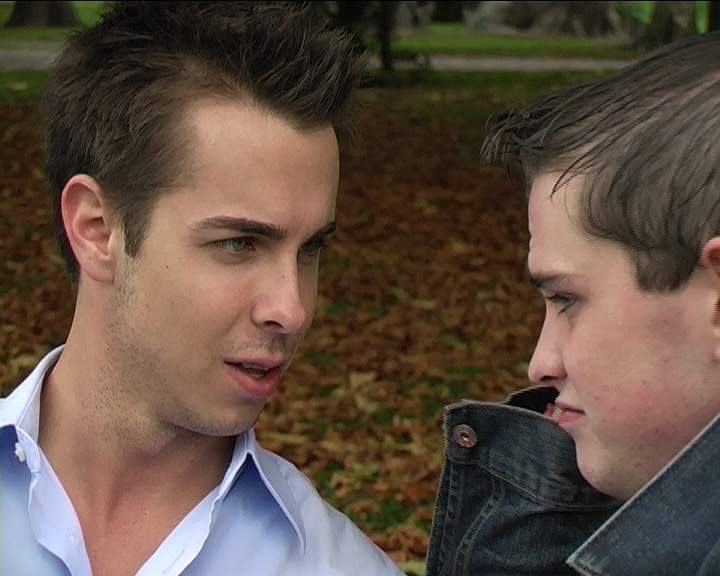 Are ye using the same cast again for 'Genuine Deception'?
Part of the cast are similar, one or two actors from last years film. We actually had open auditions this year and they didn't need to have acting experience. All they needed was to have an interest in the subject matter of the film and have an interest in running this project.
What we have improved on this year, is that we have gone fully professional with all the equipment we are using. We have also added in professional lighting and professional sound.
Last years 'Take A Chance on Me' was all improv. acting, what is the story in this film and what can we expect from it?
Last year we had a story and we knew what the story was going to be about, we knew the start, the middle and the end. But what we didn't know what each person within that story was going to say to each other.
This year every word in the film is scripted so the actors have a lot easier job and it looks a lot more effective as well. The humour is very very high in this film.
The general story line in this years film is that, it's about 2 friends trying to find out which is more important, friendship or relationships. Basically what happens is two guys meet this one guy and I can't tell you an awful lot more what happens in between this, but it is really funny and it is very humorous.
I am sure a lot of people you know who are out on the scene or whatever, can identify with what happens in it.
Okay it's probably more dramatic than what actually happens or in some cases maybe not as dramatic as the Cork scene (laughs). It's a good laugh. Some scenes are serious but for all for all intents and purposes it is comedy and is very funny.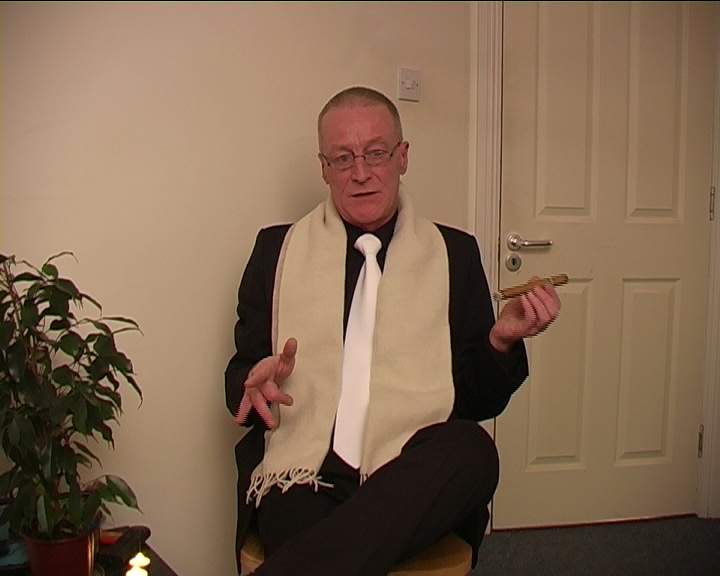 What inspired you to make 'Genuine Deception' and 'Take a Chance on Me'?
Basically, looking around within my own friends and the people I know is what inspired this film. Anybody who knows the gay scene or who goes out on it will know that it is definitely not ordinary, it's fairly extraordinary. Especially in Cork as we have our own unique style and humour in how we live our lives and I wanted to capture that.
The inspiration would hugely come from the fact that for gay people and our friends, every time we meet, is in bars and clubs. It was good to do something constructive with our time and like I said these people are talented, so what better to do than go away make a film you can look back at in years and be proud of.
One of the things we got going hugely for this film is that we have an original song that's written and performed by Karl Fradgely. He has given us permission to use his song in the film and he is also acting in the film. He is playing himself and he is supposed to be a famous popstar who the characters go to see. We recorded Karl live in Jurys hotel singing acappella on a piano. The song itself is really really good.
Also this year we are not just doing it for the gay community but we are doing it for the Cork Film festival as well. We hope to have it accepted for next years Cork film festival.
Definitely not actor (laughs). The job I do in this film and in the last film is a director. So basically everybody else on the film is talented, what I do is that I put these talents together, make sure they work together properly and organise the right people to write it. Also I decide on the dialogue, what stays in and what stays out. Then I direct it.
Basically most of these guys live what's happening in the film. So sometimes there is not a whole lot of direction involved.
One character in the film is called Kelly Clitoris who is a drag queen and Kelly's story-line is when she hears country music she is off! I won't say what she is off doing but you can use your imagination. Her story-line is very strong.
The cast generally knew when they got a script in front of them and they knew how to take on these roles because we see these characters every day.
What training/background do you have?
I produced video for about seven years. So my background is in production but I have a guy Sean doing production in this and he is really good. He knows exactly what to do, both of us can link very well. I can tell him what I want and he interprets it on video.
How are you going to fund and distribute the film?
Money is always a problem. Last year we made a film out of nothing. This year what we are doing is funding it through quizzes. Also we have two main sponsors Loafers bar in Douglas St and the Cork Gay Project.
The funding goes so far as we can produce it but after this you can have huge problems. Say if you use any piece of music in the film, you have to pay copyright for it. You are looking at €18,000 to €19,000 just to pay for copyright.
We might get away with that for something like the Film Festival. Where it is members only and it is not shown to the general public. So we are hoping we can get over that stumbling block.
We also plan to take it around to all of the gay prides like Dublin, Waterford and Galway and everywhere else. That's our plan. Ultimately what we want to do is show people that we are doing this and they will hopefully be influenced and start there own film. In years to come it will develop.
It gives people other outlets to meet with people to spend time with people other than just the gay bars and gay clubs. To get out of that routine and do something constructive. As a community we don't have many social clubs, we don't have soccer teams that go on all the time. You need to do something constructive rather than sit in bars all the time. And gay people tend to be very colourful and artistic so why not do something that uses this constructively.
Going back to my purpose I basically just organise these guys. These guys have the talent and I just put them together and make sure they come up with something good at the end of the day.
So you can be likened to a pop svengali like Louis Walsh but with film?
I wouldn't be so brave to say it (laughs).
Do you think Cork is a good place to be gay at the moment? If so, do you think it will come across in the new film?
It is definitely getting better. But I think if you ask anybody to describe what the scene is!. They will say the night club or the two bars and there is very little outside of that for people at the moment it, and we do hope this will inspire people to go on, it doesn't have to be film it can be anything, to do something constructive and to do something you can measure at the end of the year and be proud of rather than to say that you have gone out X amount of time during the year and drank so many pints.
It needs to have another social side of it. I think one of the major problems is that we don't seem to organise ourselves as a community. We are all in our own little pockets and groups. We don't seem to network among each other and instead stay within our own six or seven people. The LGB is the only thing that I think that are doing a real lot for young gay people in Cork. They network quite well and they tend to have a lot of social events and go bowling. I think if we as a community could mirror that, then we would be doing a fantastic job. But it has not happened yet.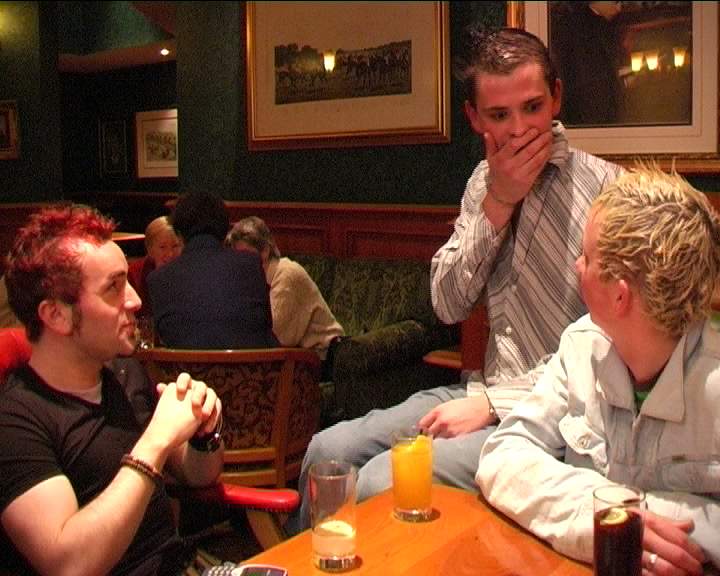 Do you want pursue a career in film?
Last years film was a bit of fun, it was a good effort by all of us who were only learning what to do. This years film you can't compare the two because it is done a lot more professionally. It is structured that this project will continue years to come given that people will continue it. Myself Sean the producer are intending in doing shorts from now on.
So yeah maybe if it works, then yeah we will be delighted.
Does the film deal with a lot of gay issues?
Genuine Deception is not driven by gay issues. It is normalizing what people do on the scene rather than saying I have got a fierce problem with this. It is showing you just as you would in a straight film. This is our life and we have the same problems everyone else, so let's get on with it. Last year was about Coming Out and people coming up from the country for the first time. This is different, it is about a group of friends. It is a film done by gay people and it is about a gay scene but it is not about gay issues at all.
We now need to normalize things and carry on the same as everyone else. We have the same hopes and aspirations as straight people. That's the way we should be seen.
What are the locations in this film?
If you look at last years film. Basically what we have is a camera on a tripod inside an apartment and people put in front of the camera and told talk. That sums up what we did last year. That's not taking from what the lads did last year, they put an awful lot of work and effort into it. This year's is much different. We have used places like Jurys hotel there is a lot more outdoor stuff. Fitzgeralds Park is taken a few times.
Jurys Inn?
No definitely not! (laughs) it is not that type of film. We have two or three houses. Loafers is in it as it is one of or sponsors. We didn't actively go out looking or sponsorship this year but fair deuce to the Loafers management as they came to us and offered it. So we need to repay that by showing more of the bar. We are shooting in Taboo, The Other Place, a pizzeria in town and we are planning to shoot in West Cork as well. It moves very fast, people will definitely enjoy it.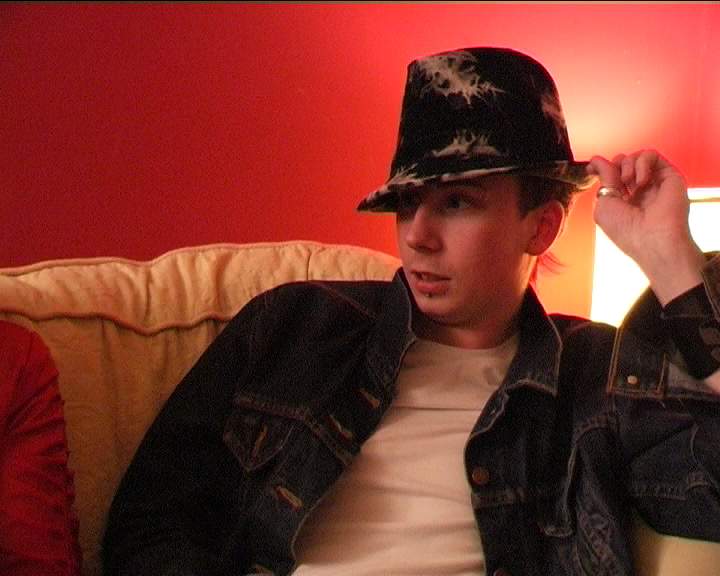 When is the first screening or preview of this film?
The Genuine Deception premiere in Cork will be February the 20th. The tickets will go on sale the last two weeks of January and will be on sale in the Cork Gay Projects resource centre on North Main St.
They will be on sale every day form 9 am till 5-30 pm. The tickets are only 10 Euro this year. That includes meeting the actors afterwards, a disco with DJ Pat for the whole night and there is also a bar extension. I think for 10 Euros it is a very good deal. There are 500 tickets and it is open for people in Waterford and Kerry to come up for it as well.
They are 10 Euro up until the 10th of February because we obviously need to pay bills. We are a non-profit making and we have to get the money to pay for the costs. They will be going up to 15 Euros after the 10th of February.
Have you seen any of the plays in The Other Place and if so would you be interested if approached in turning one into a short film?, say for example 'Coming In' by Tony Doherty and David Gordon?
I have actually seen all the plays in the Other Place, 'Coming In' was particularly good and it would make a very good short.
But I must say if I was to choose to watch a film or something live on stage, live on stage is a lot more impressive. That was really really good what they did last year but I hope if somebody, or if we were asked to do it, could recreate what they did on film. Because to go back in and rebuild what they done would be a very difficult job.
You don't think it would be as powerful in film as it was in theatre?
No, for the simple reason in the theatre you are less confined to a script as in film. Also in film you are not having the live action happening before you. In theatre the characters come across as less plastic and larger than life. Theatre is far far superior. That's my opinion.
More Film Stills (Click for larger)
Youtube Clips
httpv://www.youtube.com/watch?v=H2ay99CLygA
httpv://www.youtube.com/watch?v=Q5tXaG5OU_Y
Trackback from your site.