Out & Active – A Cork LGBT Sports Group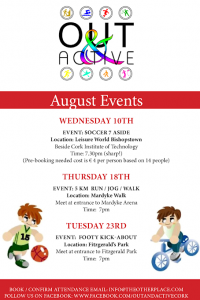 At long last Cork has a new LGBT Sports Group, and if you look at their website  – www.outandactivecork.com – you can see they say the following about themselves:
Whether it is soccer, running or exercise classes, sport is a great way to keep in shape and to socialise.

No matter how good (or bad) you are at a particular sport, people are encouraged to join to have fun, take their mind off their daily routine and meet like-minded people.

The aim of the club is to meet 2 / 3 times per month and to have a diverse selection of activities to appeal to everyone followed by a social coffee / drink afterwards.
Their events start from the 10th August, and includes things like Soccer 7 ASIDE, 5 KM Run / Jog / Walk, Footy Kick-About and a Hill Walk.
Credit & Congrats must go to Paul, on the setting up of this new group. It's a perfect example of how 1/2 people can setup social groups.
Trackback from your site.