Adrian Kiely, Mr Gay Loafers 2011, Q & A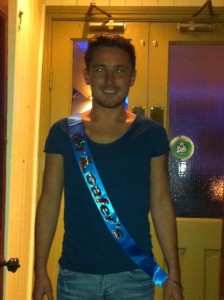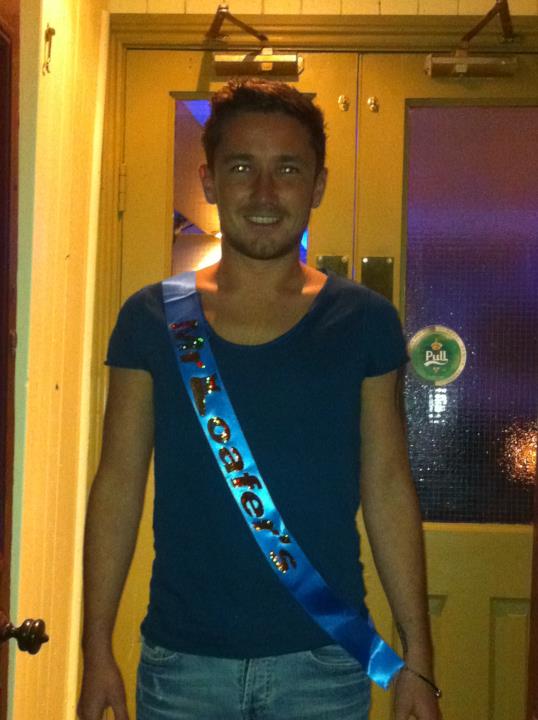 Cork will have three representatives in this year's Mr Gay Ireland. We caught up with one of them, Adrian Kiely who won the first ever Mr Gay Loafers.
Where and when were you born?
I was born in cork on the 10th of Jan 1982.
Where do you live now, and with whom? Describe the place and the person/people.
I live in a two bed appartment on popes quay with my friend eanna murphy.
What is your occupation?
I am a retail sales consultant at meteor.
What do you have in your pockets?
My fags and my phone
What was the last song you sang when no one else was around?
Leona Lewis, Collide.
As a child, what did you want to be when you grew up?
A Superhero.
When and with whom was your first kiss?
I was about 7 and with one of my best friends, Tracy.
Who has had the most influence on you?
My Mother, she is my rock and has always kept me grounded.
What do you consider your greatest achievement?
That would have to be coming an uncle and god father to my beautiful niece Laila and of course winning Mr Gay Loafers.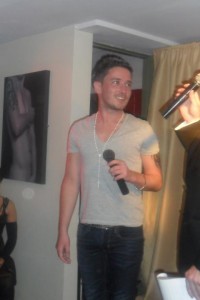 What things are most important to you now? Why?
being healthy living life and not just letting it pass me by as I reach 30 I have decided to try things I would never have dreamed of doing before.
Who do you trust and depend on?
My family and my friends – they keep me grounded but alos put up with my bad moods and cheer me up when I'm feeling down but they are also there with good advice when needed.
Are you basically optimistic or pessimistic?
Think I'm a bit of both I have my days where I think the glass is half empty but also have my days where I think it's half full.
Do you believe in the existence of soul mates and/or true love?
I believe that there is someone out there for everyone but also think because I have been single for so long I'm wondering where he is! lol
What do you believe makes a successful life?
Good health good friends and definately a good social life – you need to have a good balnce of everything.
What is your favorite kind of music?
I love pop music especially 90's pop and am also a big Leona Lewis fan.
What scares you?
Have a big fear of death or losing a loved one, also spiders!
Hugs or Kisses?
Hugs, nothing like a hug when your feeling low.
Who is the most important person in your life, and why?
That would have to be my mother again. Would be lost without her. I came out at 13 and she has supported me all the way through and when I was bullied bad at school she was always there for me.My dad is also amazing but I'm defo a Mammy's boy. lol
How close are you to your family?
Very close.
Do you care what others think of you?
I think everyone does. I used to be very bad about it when I was younger, its when you get older you realise it's not what people think of you that matters, it's what you think of yourself that counts,
What is/are your favorite hobbies and pastimes?
I love to cook – I make a mean curry, I also love to socialise and a big telly buff.
What is your most treasured possession?
My wax for my hair never leave home without it.
How do you spend a typical Saturday night?
Usually drinks at mine or a friends then clubbing, or we head to Loafers then Chambers – depends how broke we all are. lol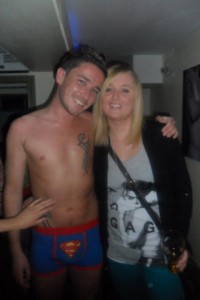 What makes you laugh?
A few of my friends are ditzy, some of the things they come out with make me laugh.
What, if anything, shocks or offends you?
Prejudice ….people who think being gay is a sin and the haters out there.
Are you spontaneous, or do you always need to have a plan?
I always need a plan but I also find by planning it never turns out the way I think it is.
Do you like to dance?
When I'm drunk, I'm very self concious when sober.
Describe the routine of a normal day for you. How do you feel when this routine is disrupted?
I get up, shower and go for the bus and head to work. Once I finished it's pretty much going home to walk the dog and catch up on a bit of telly depending if I'm going out, then bed. I'm pretty boring really.
If you could change one thing about yourself, what would it be?
My nose, have always hated it. lol
Are you generally organized or messy?
I like to be organised. I hate mess and being anywhere thats messy.
Name three things you consider yourself to be very good at, and three things you consider yourself to be very bad at.
Being a good friend, being a good godfather and my job. 3 things I'm bad at, sometimes I have a big mouth, being confident and sticking up for myself.
What goal do you most want to accomplish in your lifetime?
To be happy, settled and maybe meet the right person have a family.
Where do you see yourself in 5 years?
A lot older! lol. Hopefully still in a good job and settled.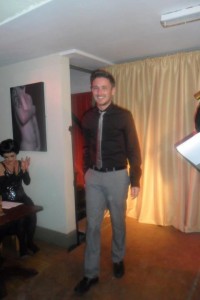 What three words best describe your personality?
Bubbly, fun and sarcastic.
What three words would others probably use to describe you?
Vain, generous and dependable.
If you were to choose a new name for yourself, what would it be?
I like Blaine.
What do you do for fun?
Going to friends for dinner or movies and heading out at weekends.
What do you do most often when you are bored?
I can't let myself be bored. I always have to find something to keep me occupied.
What is something that you are really proud of and why?
Winning mr gay loafers I'm really shy and not confident so to stand up in front of people and speak and walk around in my underwear took alot of guts
Why did you enter Mr Loafers 2011?
I have been on the gay scene for 12 years and have never once entered any kind of event. I really wanted to do something before I turn 30.
How does it feel to be Mr Loafers 2011?
Absolutely amazing it was such a rush and I'm still on a high from it.
Any ideas / plans to make you stand out in the upcoming Mr Gay Ireland final in Dublin?
Nothing at the moment I need to get my thinking cap on
Finally is there anything else you like to say?
I would like to thank everyone at Loafers for putting on such an amazing event and the guys that entered were really some of the nicest people I have ever met. Last of all I would like to thank everyone who came out to support and vote for me.
Trackback from your site.