Broz was one of the greats in Cork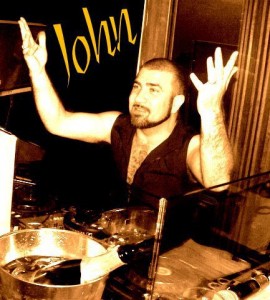 By Stevie Grainger (DJ/REDFM)
It's always sad writing about a musical talent that has left us too soon.
It's extra sad when that person is younger than you and devastating when that person is a good friend.
The passing of Cork DJ and singer John Brosnan on Friday has left Cork in shock, as he was one of the most popular and infectious figures on the music scene.
He will be sadly missed by everyone who has had the good fortune to cross paths with him and I'd like to celebrate his life a little here today.
Broz and Angi were partners in life and have always been synonymous with each other. Back in 1995 I was first introduced to them by the Joe and Denis who were promoting Mór Disco, and we all became friends immediately. The years rolled by and many great shows and adventures were had here and all over Ireland and the UK.
After leaving for Holland at one stage, the two returned here earlier this year much to the delight of their many friends and acquaintances in Cork. Both were DJs, but unlike myself and Angi, Broz was a singer and it was in this field where he really established his reputation.
From the days of fronting soul and disco outfit Sexual Chocolate and tearing the roof off venues such as the Opera House right up to his live singing at the legendary night Workout, Broz was someone who was born to entertain.
Even when not working, he was the life and soul of the party in Cork and he spent the last night I met him last week dancing in front of me singing every song at a gig in the Woodford.
He simply loved music of all kinds and whether it was Karaoke bars, gay bars or super pubs, no mic was safe and Broz was always willing to bring us joy at any time.
Sometimes the gay scene in Cork, which has always been very important in this city, is left at the margins and not documented. Through nights like Mór Disco and Workout and many more, I'll certainly never underestimate it's impact, and these and other nights were also good in creating a tolerance and understanding that sometimes can be taken for granted. Thankfully, Cork is very much an enlightened place in 2011 and I think its fair to say the sheer force of personality from Broz has helped this too.
Music has always been a powerful weapon in breaking down all prejudices and with the likes of Broz bringing the music, we were always guaranteed a great party.
With all the journalistic talk of music genres and technical jargon, we sometimes forget that music is simply an expression of emotions and a celebration and during this week and beyond we will celebrate John Brosnan.
Tags: dj broz
Trackback from your site.