In Memory of DJ John Broz
The Cork LGBT community has lost a legend, when sadly DJ John Broz, passed away on September the 30th. He had been an integral part of the cork scene long before there was any mainstream gay pubs in the city, with his regular Sunday nighst in the Savoy and also regular spots in the Roundy, Loafers and the Other Place.
The following article was article – which was from  GCN in May 2007,  when John lived in Amsterdam – perfectly encapsulates what John was about…
( Stevie Grainger also wrote a quick tribute: BROZ WAS ONE OF THE GREATS IN CORK)
May he Rest in Peace x
John Broz: Back in the saddle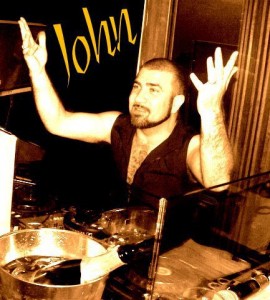 Returning to the People's Republic to help its citizens celebrate Cork Pride, DJ John Broz is to resurrect the city's utterly legendary club, Work Out at the Savoy for one night only. Brian Finnegan meets the man in his adopted city of Amsterdam and finds him gagging to bring it all back home
Once upon a time there was a DJ who liked it big, brash and utterly cheesy. He wanted to bring heaven in a handbag to the people of Cork, so he teamed up with a friend and turned the city's most famous venue into one of the best gay clubs the nation of Ireland has ever seen. But then the nasty forces of the baying heterosexual market forced our hero out on his ear and although he tried to resurrect the magic in another venue, it just wasn't the same.
That club, for those of you not in the know (shame on you!) was called Work Out and for one all-too-short year it packed queers by the thousand into the environs of Cork's Savoy Theatre and fed them on a delirious diet of diva pop and sequins, the like of which the People's Republic had never quite experienced before. The DJ who supplied the sugar was called John Broz, and although he was already a wellknown player on Cork's scene, Work Out gave him the chance to stretch his beautiful butterfly wings and show the city exactly what he was made off.
"My first gig ever was in The Roundy on Cornmarket Street," he remembers over coffee and fully legal substances in a little establishment on Amsterdam's gay-centred Regulierstraat. "I had thought I'd start playing in gay bars first and then move on to the straight scene, but it happened the other way around. All the queens started taking over the Roundy on a Sunday! It was a great laugh."
But John's ambition was to play on the legitimate gay scene in the city, so he approached The Other Place with his portfolio of pumped-up tracks. "After a while I got in there and I was a regular for three years. I've played everywhere in Cork, but I love playing on the gay scene the most. You can just hop out and have a dance whenever. In straight venues you have to be all refined and separate to the crowd. And there would be fights and everything, so you wouldn't be so comfortable shouting, 'Hey girlfriend!' at your mate across the floor, or anything."
Work Out was the original concept of a friend of John's called Joe Kelly. Broz takes up the story: "Joe came up with the idea of doing it at the Savoy and he asked me if I would do it. I was like, 'Of course!' Give a gay man a stage that big, and he's going to say no?
"It started off as a straight/gay mix, but it got really gay very quickly. Over a thousand people would turn up and I'd have things like Wonder Woman on the screens, and I'd wear legwarmers and shorts, the whole Kids from Fame thing going on. I'd play anything from Guns 'n' Roses to Shirley Bassey, and everything in between. We did calendars up for the year, with my head on Wonder Woman and John Travolta, and all of the Nolan Sisters! It was outrageously camp. Work Out got huge very quickly. We had '80s legends like Jimmy Somerville over, we had Limahl… Adeeva was booked but she never turned up. I was furious over that! She was in Paris and she missed that Chunnel thing. I was like, 'She couldn't fly?' She was coming to Cork by train and boat!
It went for about a year, but then the club itself started getting a name as a gay club. The owners were put off because straight people stopped going on the nights when it was supposed to be straight and they couldn't sustain it. "So I moved to Bodega, and we changed the name of the club to Fever, but it never took off there."
The demise of Work Out came as John and his partner Michael were making a hefty life decision. "We felt we couldn't be a gay couple in Cork, like we couldn't hold hands walking down the street and be totally overtly together. Also, we needed time away from everything to be together. My partner, Michael was a DJ too – he played Creamfields and that kind of thing. I was the cheesy one, he was the cool one! I was singing in a disco band too, called Sexual Chocolate. We were hardly ever together."
So the pair decided to move to Amsterdam, where the gay livin' is easy. Two years later they're thriving in the Dutch capital and have just bought their dream house on an island north of the city. But John's beginning to get itchy feet. "I'd love to DJ over here," he says, "but it's very difficult to get into. It's a closed circuit and it's very hard to break. Now that we're more established and settled, we can start looking at going back to the music. I miss it now. I didn't during the first year, because I think I needed a break. But now I'm starting to get itchy again." Perhaps that's why when the organisers of Cork Pride called John up, asking him to revive Work Out for one night only, he jumped at the chance.
"I was like, 'Just try and stop me!' I didn't realise people were still talking about it, to be honest. I thought they'd forgotten all about me at home. "I'm really looking forward to going back. And I'm going to play the following Saturday night in Climax too. I'll be home to see all my girlfriends in Cork, all the queens. You can't have the same humour and laugh over here. The Dutch are completely different.
"I feel privileged that they still love Work Out in Cork. I can't wait to do it again. I'm going to do it in rollerblades and kilt this time. I'm trying to come up with loads and loads of ideas.
"People can expect what they can always expect from me. A bit of Tina, a bit of Kylie… and I have one or two surprises up my sleeve too!"
Youtube Tributes
httpv://www.youtube.com/watch?v=_Sg2aofrIGk
httpv://www.youtube.com/watch?v=wL9suVjm984
Tags: dj broz
Trackback from your site.