Irish Premiere of Weekend at Outlook Film Festival
On Wednesday the 6th of November, the Irish Premiere of Weekend with be shown as part of Outlook Flim Festival in Cork Opera House.
We have two pairs of tickets to give away to this premier, and to be in with a chance of winning please see this
thread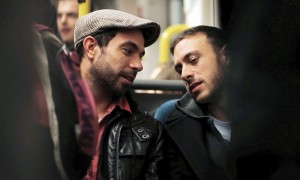 Wed 9th | 6.00pm | Cork Opera House
Book Tickets!
Andrew Haigh
England | 2011 | 96mins
Irish Premiere
On a Friday night, after hanging out with his straight mates, Russell heads out to a nightclub, alone and on the pull. Just before closing time he picks up Glen. And so begins a weekend – in bars and in bedrooms, getting drunk and taking drugs, telling stories and having sex – that will resonate throughout their lives.
Astonishingly self-assured, unassumingly profound. It is one of the most satisfying love stories you are likely to see on screen this year. – New York Times
The director will be in attendance.
Producer: Tristan Goligher
Print Source: Peccadillo Pictures
Reviews:
Roger Ebert
Andrew O'Hehir, Salon
David Edelstein, NY Mag
Tags: outlook film festival
Trackback from your site.