Cork Women's Fantasy Ball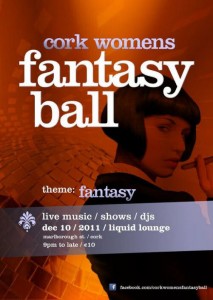 The Annual Cork Women's Fantasy Ball is taking place this Saturday from 9pm in the Liquid Lounge, which is above Clancy's bar on Marlboro street.
Entry is €10.
They will have 4 DJ's over 3 floors and 2 dance areas with the velvet room being home to dance and disco and the main floor  everything from Rihanna to Blondie to Imelda May to Pink.
Attendees are  recommend arriving around 10pm as one of their special guests shall be making an appearance around then.
Loafers are hosting the pre fantasy ball reception from 7 with a fantasy cocktail on the menu.
Tags: fantasy ball
Trackback from your site.