Xfactor's Sami is coming to Chambers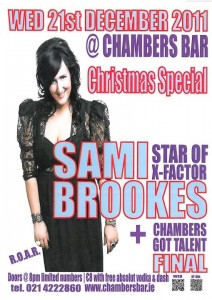 Following the recent successful visit by X-Factor's Johnny Robinson is coming to Chambers, they have secure another Xfactor finalist, Sami Brookes.
She's coming to chambers on Wednesday 21st of December, which is also the same night as Chambers got talent final.
Doors will open 8pm, starting with CHAMBERS GOT TALENT FINAL at 9pm sharp.
Entry: €8 includes vodka and dash. First come First served. Door numbers apply.

Trackback from your site.