Mr Gay Cork 2012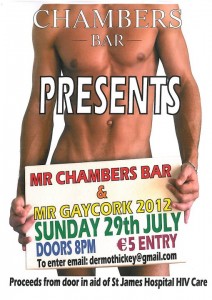 Mr Gay Cork & Mr Chambers Bar is being held in Chambers on July 29th 2012.
The is the first year of  Mr Chambers Bar, as it is only fair that Chambers get's their own representative with all the hard work they do in promoting the event.
For anyone who may be interested in entering, please email dermothickey@gmail.com for more information
Tags: chambers, mr gay cork
Trackback from your site.