2012 UCC LGBT Coming Out Week

- Monday 22nd October
Trans* Coming Out Workshop: The difference between Gender & Sexuality.
Boole 5
7pm-9pm
TENI's Development Officer Vanessa Lacey talks about Coming Out as the often-overlooked Trans*, and highlights the differences between the T and L,G,B.
-Tuesday 23rd
General Coming Out Workshop
Electrical Engineering Building L2
6pm-8pm
Dave Roche offers his experience, tips and advice all about the topic of Coming Out. Q&A after.
- Wednesday 24th
One-Woman Coming Out Performance Comedy Show
Boole 1
7pm-9pm
A one woman comedy presented by Breda Larkin which tracks key events in her life through 11 short monologues, sketches and songs. The theme of her show is the discovery of one's true path in life.
She begins her journey at a young age and moves into her adult life, exploring her sense of being and sexuality within the institutions of school and the Church. She examines themes such as death, first love, attraction and fear of self using spoken word, song, music, poetry and photography. It is a show laced with humour and honesty served with some special theatrical moments and wacky characters.
http://www.facebook.com/bredalarkintheway
- Thursday 25th
Movie screening: 'Beautiful Thing'
Kane G2 7pm-9pm
Based on a stage play by Jonathan Harvey and adapted by him, is a kind of enchanted, urban slice-of-life tale about a gay teen, Jamie (Glen Berry), who is in love with the boy next door, Ste (Scott Neal). Hampering Jamie's progress on the romantic front is his fear that his mother (Linda Henry) will find out, as well as concern over complicating Ste's existing problems. While both were vaguely aware they might be gay, neither had ever acted on their impulses. Once they decide that they're attracted to each other, neither is sure just what to do. Winner of 4 International Film Festival Awards.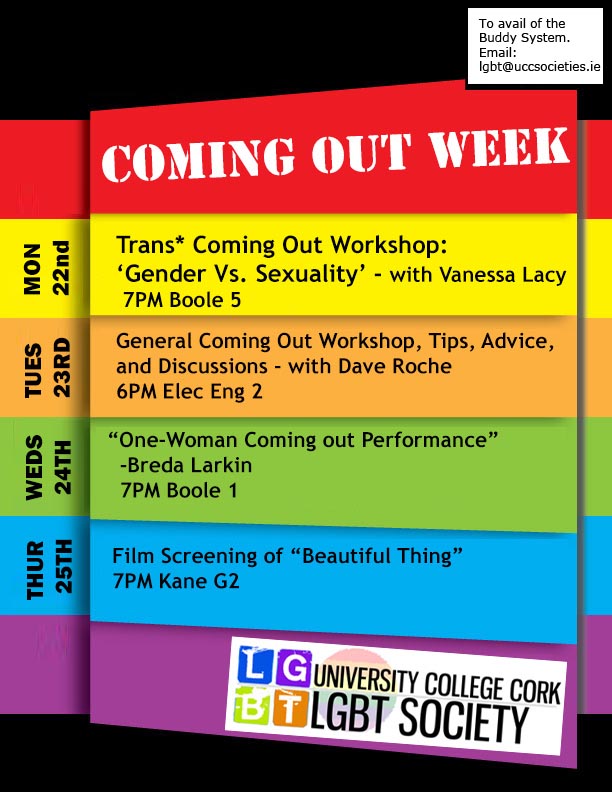 Trackback from your site.