The Front Lounge Gathering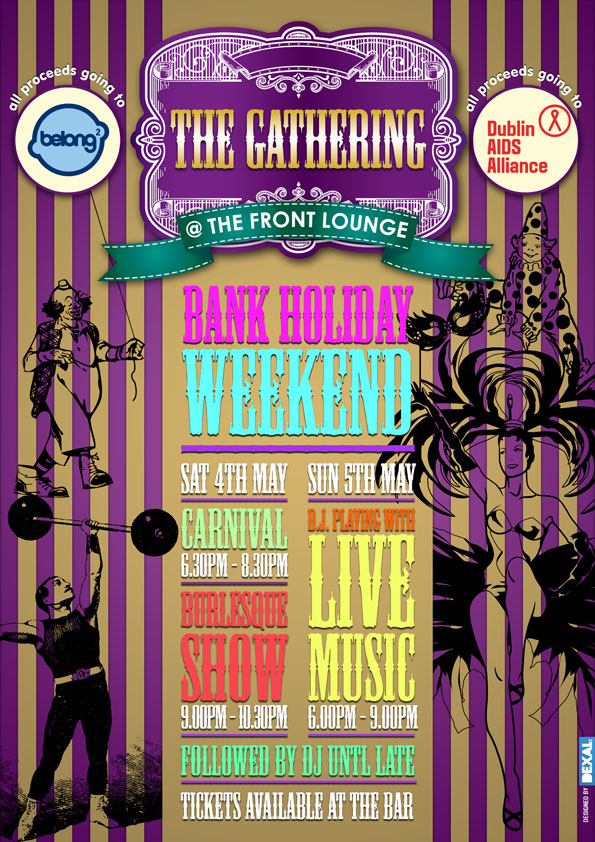 The Gathering is Ireland's long earned excuse to have a bit of a party in 2013 with all sorts of jiggery being planned in every nook and cranny of this fair Isle.
Naturally, we at the Front Lounge are ready and eager to jump in to the thick of it and what better time than the May Bank Holiday weekend- allegedly the sweet start of our version of Summer.
We are super-excited to reveal a plethora of hot and happening events- kicking off on Saturday with one of our legendary carnivals leading us not so gently into what will be one sizzling burlesque show, while Sunday sees us proudly hosting performers Phil Bass and Chris Engel alongside other live music events.
There will be lots of other stuff in  between, and, of course our resident DJs will play late into both nights to assist with the comedown!
Tickets are a mere €15.00 for the weekend (or €10.00 per day if you're really strapped)  and we are happy to confirm that all proceeds will go to promoting and supporting Belong to Youth Support (belongto.org) and Dublin Aids Alliance (Dublinaidsalliance.ie)- 2 superbly deserving charities who have done and continue to do excellent work within the community.
Let the shenanigans commence!
Tags: dublin, front lounge, the gathering
Trackback from your site.