The Word of Breda – A one woman show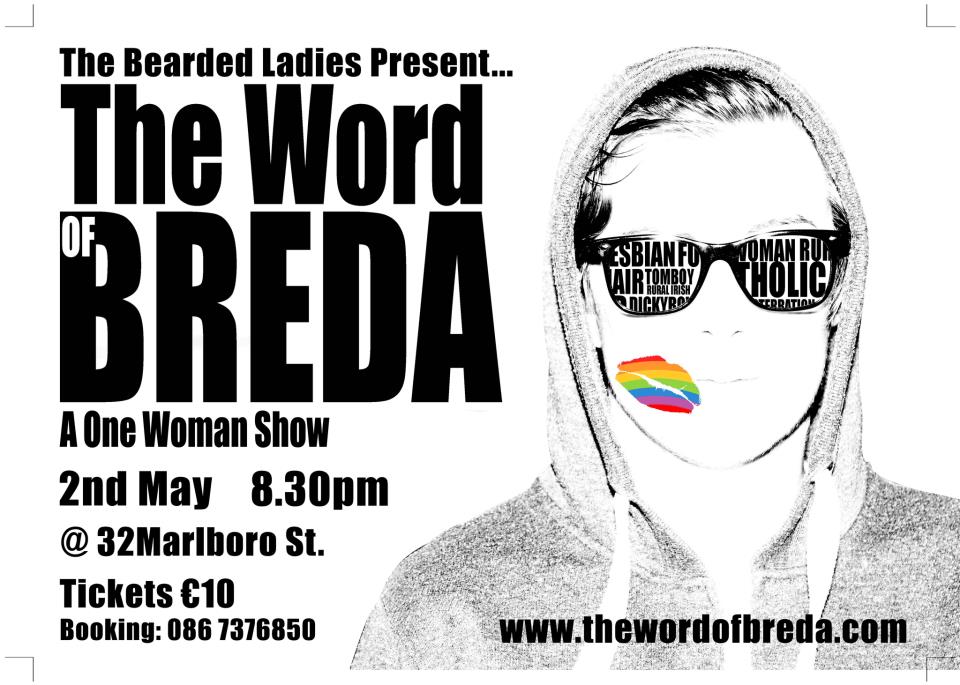 The Bearded Ladies presents…
The Word of Breda- A one woman show
8.30pm at 32 Marlboro Street on the 2nd May 2013
Tickets: €10
'I'm not a lesbian lads…. I just like driving tractors'
Join sapphic storyteller Breda Larkin in this hilarious and thought-provoking exploration of her life through the triple lenses of sexuality, religion and em…facial hair.
Having discovered upon entering primary school that she was in fact A GIRL, it wasn't long before Breda had to contend with the stifling limitations of pinafores, first communion dresses and knitting!
'I'm knitting nothing!'
From there it was an uphill struggle against the forces of heteronormativity, patriarchal society…and loofahs!
Flicking her baked beans across the dinner table in a tactful attempt to come out to her parents, Breda had found her calling in life, and it had nothing to do with becoming a bride of Christ (although living in a convent with a community of sexually frustrated women and scones on tap did sound appealing!)
Follow Breda as she journeys from 'getting the shift' with the local lads for 'cream buns n' snickers' to breaking the hearts of her imaginary lesbian camogie team and cartoon reporter April O' Neill, by falling in love with a beautiful real live girl and becoming a fully-fledged dickie-bow aficionado.
Written and performed by: Breda Larkin
Co-Directed by: Evelyn Quinlan and Nicola Depuis
See www.thewordofbreda.com for more info
Trackback from your site.