23 Jun 2013 – Celebrating the 20th Anniversary of the Decriminalisation of Homosexuality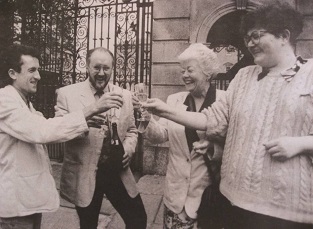 24th June 2013: Twenty years ago today, in June 1993, the Bill which decriminalised homosexuality in Ireland passed all stages in the Dáil.
The passage of the Bill in June 1993 was a watershed in the lives of gay and lesbian people in Ireland. No longer were Irish people to be treated as criminals, just because of who they were.
The passage of the Bill was one of the most important steps in the liberation of gay people in Ireland. It led to new generations of lesbian and gay people able to live their lives more openly,and it was a crucial building block for the extensive legislative reforms which followed.
To mark the 20th anniversary GLEN have reproduced here extracts from some of the speeches from the Dáil and Seanad debates, with some reflections from the GLEN co-chairs in 1993: Kieran Rose, Suzy Byrne and Chris Robson.
See here for more info
Trackback from your site.