'Funk N Something' meets Leanne Moore
Leanne Moore has branched into many areas in her career in the past few years, winner of 'You're a Star', number one single, Presenter on TV3s Xpose and Ireland AM and a major part of the Irish Contingent in the last three Eurovision Song Contests. She will play the role of 'Sandy' in the musical 'Grease' in the 'Cork Opera House' from July 12. Tickets available now at www.corkoperahouse.ie  Book yours now it is sure to be a sell out!
Firstly welcome to Cork Leanne and can I just say as a huge fan of Olivia Newton John, I think you will make a perfect Sandy. How excited are you about this role?
Thank you! I'm so excited about it. To be honest I was a little overwhelmed for the first few days in rehearsals. Everyone is so talented and I felt a little like I was in over my head. I've had no formal theatre training besides stage school as a kid but I gave that up at 13. It's literally my dream role, the only part I've ever wanted to play, so now I'm just hoping I can do it justice.
You have achieved so much in such a short space of time, singer, actress, journalist, and presenter. What are you most proud of in your career so far?
In the past year, I've had a few "wow" moments to be honest. In every walk of life you have to work hard to get the things you really want and in the past few months I've started to see things come together a little bit. It's very exciting. I suppose what I'm most proud about is the fact that I can say I got to where I am by working hard. Nothing is ever handed to you in life.
You have gone to Eurovision for Ireland three times now, we are all still in shock after this years result. What you do think went wrong for us?
I really can't say. It still has me baffled. But I think for future Irish entries, it'll be important to just take it with a pinch of salt. I mean in the past few years Ireland has thrown everything at it. So short of paddling the country over to be more "central" in Europe I really think we need to just keep doing what we're doing!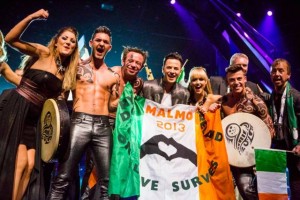 You sang with the fabulous Jedward two years in a row, I have to ask are they really that hyper and energetic all the time?
Absolutely! But even more than that, they are so switched on and in tune the whole time. They're literally some of the hardest workers I've ever met. They understand their industry and they don't get enough credit for that. Awesome boys!
I loved your recent interview with Michael Douglas, do you still find it nerve wrecking interviewing mega stars like him? How do you control your nerves? I'm trying not to totally 'Queen out' talking to you
Lol!!! Oh Michael Douglas was incredible.  suppose when you meet someone you've only ever seen on the big screen it's always quite intimidating, but once you get a sense of them it's easier to settle into it. Plus Michael Douglas's bodyguard was from CORK! Now there's a "it's a small world" moment!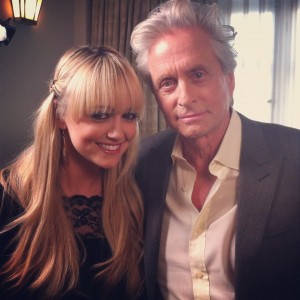 Who was your favourite celebrity interviewee so far?
Oooo that's a tough one! I suppose for me personally it was Graham Norton because I adore him! As a presenter it's him and Ellen Degeneres for me! Love their styles! Jude Law was pretty cool too! The microphones kept acting up and we had to start over like three or four times asking him the same question….! I was like "Okay so pretend like I haven't asked you this before….!"
I saw you in last years UCH panto 'Cinderella'. Panto Queen Twink played your Fairy Godmother. Was it exciting working with such a Legend of Irish Stage?
Yes. Adele was amazing to work with. She just captivates a whole room just telling a story. It was a complete honour.
You have already had a number one single in Ireland with 'On Wings' have you any plans to record more music in the near future
It's always on my mind, not as a career but just as a project. Making a living from singing alone in Ireland is a tough tough job but I love singing, so never say never.
When Louis Walsh was a guest judge on 'You're a star' he stated that you had more star potential than any of the other contestants (Clever Louis) would you like to work with him again?
Louis was very good to me on You're A Star and since then too. It was Louis who gave me the job singing with Jedward! I met him recently at the boyband auditions he was holding. I swear I just love how he operates. He is real and honest and straight up without being harsh about it. Anyone in this industry would kill to work with Louis! I'm certainly no different!!
Who or what inspires you?
Wow I always get stumped on these sort of questions! I suppose first and foremost I'd have to say that talent inspires me, in any form, writing, acting, singing, presenting. I'm like a sponge watching people around me, trying to learn from them and seeing how they do things.
Any last words?
I suppose I'm just flattered to talk to you! Thank you for being so interested! I only see myself as "climbing a ladder" at the moment. There is so much more I want to do. Hopefully I'll be as lucky as I have been. Grateful is a word I use a lot, I'm very very grateful! X
Keep up to date with Leanne though her website www.leannemoore.ie
Make sure and book your tickets for 'Grease'  www.corkoperahouse.ie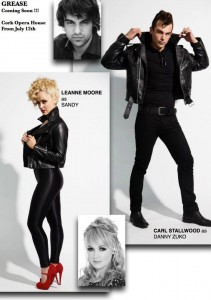 Tags: funk n something
Trackback from your site.