'Funk N Something' meets Sheila Fitzpatrick
Sheila Fitzpatrick and Madonna Lucia are Limerick's most beloved Drag Duo and two of the nicest 'ladies' you will ever meet. Sheila boasts the distinction of being crowned Alternative Miss Cork, Alternative Miss Limerick, and Alternative Miss Ireland! They are well known Eurovision fanatics and their shows are always great fun.
They're back for Cork Pride this year with a show upstairs in The Oliver Plunkett on Saturday 3rd August. Don't miss it, its promises to be one of the most fun filled events of the weekend
Cork loves you Sheila, how you feel about your upcoming Pride visit?
As always we LOVE coming to Cork. Dermot and all the crew at The Ruby lounge makes us feel so welcome. I think we have only missed one Cork Pride and even at that we were down for Dermot and Ger's wedding bash, sure wasn't that like a mini pride all of its own account. I think there always has been a "special" relationship between Limerick and Cork and we are both delighted to enhance and move that forward at every opportunity.
Can you tell us what to expect at The Oliver Plunkett gig?
More of the same auld shite . A row in the car on the way down , bad make up , ill-fitting costumes, me with one eye lash on  and of course a view of Madges's lady area. Sure it wouldn't be a night in Cork without it LOL seriously though we have been working hard over the past while on new numbers to get the crowd going. We are that "little" different in that the "girlie" look doesn't really work for us so we try and veer away from it. Whilst they work for the fabulous drags and some do it very well, Humour is our best friend, so if we can get the crowd laughing we are happy. Expect some old classics, a bit of Madonna, a bit of Eurovision and the annual favourite 'Sex in the City' sketches. The audience in Cork is always so receptive; I suppose we are a novelty as we don't perform down in Cork on a regular basis. They are always great craic and that makes our job much easier.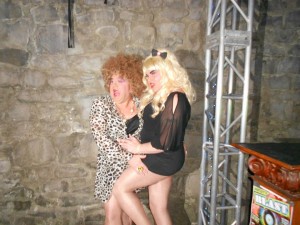 Can you tell us a bit about your love of Eurovision, when it started etc.?
How can you not love 'Eurovision' for me it is better than Christmas. My first memory was Johnny Logan winning in 87 and after that I was hooked. Maybe it was the fact that Ireland could actually win something that BIG. We weren't ever going to win soccer or any major sports event so Eurovision was like our Everest and we managed to win it seven times. I have so many memories, Celine Dion in 88 (Michelle Rocca's haIr in 88″) Linda in 92 and then Niamh in 93. I still cry watching that voting on that, I know I am so sad! Then of course we had Riverdance. The winning song from Turkey in 2001 'Every way that I can' was my first ever drag performance. Any of you who know me or have seen my shows know Eurovision ALWAYS features. I was lucky enough to go to the Eurovision final in Athens is 2006 for the first time and I was just in awe. We then organised a group to go for my 40th at Dusseldorf and all I can say is WOW. What a week Jonathan and Frank will vouch for it. I defy even the most ardent cynic to go to Eurovision and not enjoy it. It's just infectious. Eurovision is like Mecca for gays everyone should go at least once in their life. We might never win it again but we can't stop trying.
How is the scene in Limerick at the moment?
You know Limerick surprises me. We have no full time gay bar at the minute but we have 2 clubs, Dionysus being run by Paddy Doyle in Dolans runs twice a month .Anyone who has partied in Limerick over the last few years will be very familiar with the fantastic Dolan's venue. Our newest club night "Fruit" recently took up residence in the basement of the Peri hotel, 'Fruit' is being ran by Nicole Dunphy of La Boutique , Alternative Miss Limerick and of course Yum Yums. So it's busy but a weird one. Watch this space I guess.
How did you come up with your drag name?
Funny story, drunken night, loads of LOLs. I wanted something sorta "Bridie" but not too "Bridie" .I never thought that the name would be of any importance as it was in my mind just a one night thing. So Sheila was dropped into the mix 'Sheila Fits-Patrick' and 'Patrick Fits-Sheila'. If I only I could find the Patrick individual.
How do strangers react when they find out that you're a drag queen?
It still amuses me when people twig it for the first time. My transformation is pretty drastic to be honest. I HATE shaving so in "man drag" I am always with stubble or a beard, that's how most people would know me. Then when Sheila is out I am as bald as an egg. The most common reaction i get is 'What the f**k?' I love surprising people. I have a dual Facebook page for Mike + Sheila as I am too lazy to do 2 separate ones. So when I try to add someone who knows Mike but doesn't know Sheila they normally block me – until I explain. I have had some great laughs about this.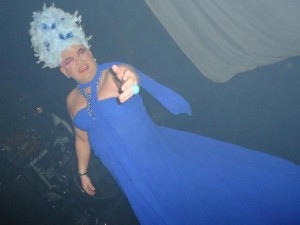 Tell us a little about yourself and your back story?
I have been involved in performance since a young age through Irish set dancing acting and storytelling. I have two All-Ireland medals (one for dancing, one for recitation) I still perform for my local GAA club in Scór competitions and I help train the younger lads and lassies for these competitions. I am a regular performer with the Irish Rambling House who tour a lot of the Irish centres through the UK and the USA
My drag life started back in 2004.I had been to the previous years 'Alternative Miss Limerick' and was like 'I can do that!' In these competitions there are always two that are fabulous, two that are "Oh dear Jesus what were you thinking " and are a few that are fine, you know having a go and doing alright. So the following year I entered AML and was dumbfounded to be runner up. In Jan 2005 I decided to enter the 'Alternative Miss Cork'. This is how I first came in contact with Dave aka Fabula. It was an epic night in the Half Moon Theatre and I was even more dumbstruck to be announced as the winner! We headed to Dublin a few weeks later for 'Alternative Miss Ireland' with our heads up our arses thinking we were the bees' knees. Boy were we wrong, we fell flat on our faces. It was a different league up there in terms of ideas, performances and sheer scale. I didn't enjoy my time in the Olympia; it was the LONGEST six minutes of my life. Perhaps I was naive but the Dubs take things to a whole other level and I was unsure if it was the direction I wanted to go in, we licked our wounds, drew in our horns and as they say "stayed local". We started doing our "double act" charity appearances, special occasions etc. We trucked around doing a lot of charity work for Pride, Rainbow Support Services and Red Ribbon and I have to say we both really enjoyed it.
We were approached regarding a documentary for TV3 entitled 'Diary of a Beauty Queen'. We had the TV crew following us for six weeks in the lead up to that years 'Alternative Miss Limerick' as both of us were taking part. TV work is anything but glamorous but we did enjoy it. They of course were playing on the stereotypical bitchy queens and were always trying to get an angle of us fighting but we never gave in to that. Anyways on the night Evan was awarded the runner up position and my face was a picture of shock when I was announced as the new 'Alternative Miss Limerick'. A few months later we were again heading to Dublin for AMI but this time we had far more realistic ambitions, go up, do our thing and enjoy ourselves. This time I totally loved my time in the Olympia. This must have translated onstage because we got a fierce reception and I felt we did well.  I still didn't expect to win but was hopeful of some form of recognition. When 3rd and then 2nd place didn't come our way I remember thinking to myself 'Feck it, gone again', and then Panti announced Sheila as the winner! The amazing support I had that night from both Limerick and Cork is something I will never forget and still brings a tear to my eye. I think Cork people were genuinely delighted to see someone outside the Pale take the crown and even though I was representing Limerick, I think the Cork people did have a little claim on me as well. The rest is history and it is down to this character that I have been able to do and experience things that would NEVER have happened otherwise.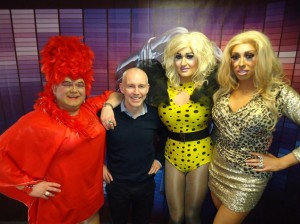 'The Ray Darcy Show' with Victoria Secret and Davina Devine
How do you go about choosing your songs & onstage outfits?
Being a "larger lady" i.e. 16 stone unfortunately the lady shops don't work for me. So it's homemade couture, ponchos and kaftans and if I'm badly stuck and don't eat for about 4 days I can get away with a Penny's size 20. My feather head pieces are notorious at this stage as a good friend of mine says to me "She's going to be buried in that pink feather head piece "The thing is I can't be dealing with the wigs uuuuuurrrrrrrrrrgghhhh, Sticking to me beard, in my eyes and the BUCKETS of sweat they produce, disgusting they are. I'm also 5 foot feck all so the head pieces give me that little bit of height. We try and fit in a few costume changes I love the loose flowy types while the Missus likes them that little bit shorter and tighter Mutton and lamb comes to mind or in her case hairy back pig LOL (I am going to be murdered for that)
Who are you favourite Drag Queens Nationally and Internationally
You know this is my 3rd time typing this …I had about 3 paragraphs and then was like 'ya eejit you're still going to leave someone out' but I have to pick 3, then its La Gateaux Chocloat AMAZING .The Grand dame and a true inspiration to me Panti and if I am going local I adore Fabula's character and acidic tongue and OMG what a performer!! There are a lot of NKOTB or "baby" drags on the scene and whilst I applaud them I feel they are all blending into one. There seems to be a lack of creativity and ideas with the latest Nicky Minaj / Lada Gaga/ Taylor Swift song being the ONE and ONLY thing to do and what's with the bitchy attitude enough already I say. You kids can be so much more then another flawless looking, bitchy queen, open your minds kids there is a world of things you can do.
What do you love most about performing?
It's simple, the buzz from the audience when they "get" what you're doing or why you're doing it. There is nothing like it. Once the crowd are onside their energy, their laughter and their enthusiasm are just out of this world. I remember in Cork for Pride last year there was an extremely tall, handsome young man standing about half way down the floor in Chambers watching our show and his smiles , cheers and just his buzz was like a feeding tank to me I just lapped him up. Jeez I hope he comes again this year.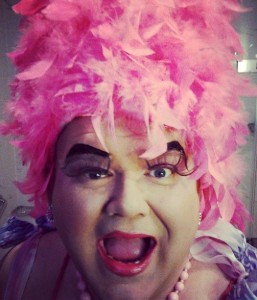 How has your performance evolved over the years?
I started out as a fat man in a bad fitting dress and a manky wig. Some will say "no change there then" and in some ways it hasn't for me. Maybe the costumes have got more flamboyant and the head pieces a bit more dramatic but my character is still the same. I sing a few funny songs not the greatest of singers but can hold a tune and I love our sketches. I try to vary it always but there are some that are just perennial favourites and just work. So am sure ye will be hearing a blast of "Your Son Will Come out Tomorrow" at the Oliver Plunkett this year.
Have you had any interesting heckles?
I remember at my farewell AMI performance I was SOOOO nervous and I was jabbering on the microphone commending all the acts that year and said "Thank God I wasn't on this year" Some old queen shouted from the balcony "Well you're on now" For once I wasn't caught short and said back to him "Well honey I aint the one who paid €45 to come in here and see me – You Did" – Cut to round of applause and me almost soiling myself.
Can you put in a good word for me with Madonna Lucia? I want to interview her soon?
I'll see, Madonna is high maintenance you know! But I am sure 20 fags and a red bull will sort her out. Just don't send her Hydrangeas, I did once, well the drama LOL I love her though. She is my favourite Tart with a heart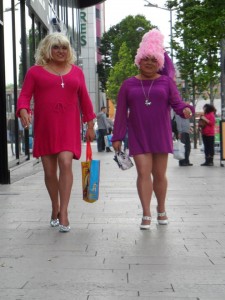 Any last words?
Cork will always be special to us both and we thank you all for taking us under your wing. Come to the Oliver Plunkett to see us it's new to us and we need all the support we can get.
And it goes without saying Thank you Cork and Happy Pride.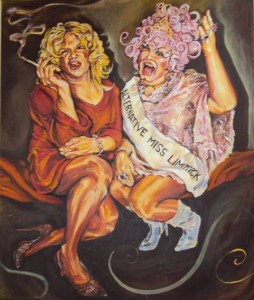 Sheila Fitzpatrick and Madonna Lucia
Pride Club – Upstairs at The Oliver Plunkett
Saturday 3rd August
10pm
€10 Wristbands in operation with access to both Upstairs at The OP and Ruby Lounge
Tags: funk n something
Trackback from your site.