'Funk N Something' meets DJ Jules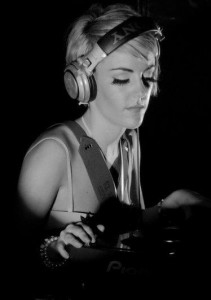 Jules Walsh is one of the most beloved artists on the Cork scene. Not only is she one of our top DJs, she is also a gifted singer and dancer. Her Lady Gaga tribute show 'Mother Monster Tribute' is playing in the Ruby Lounge on Saturday 24th August as part of 'Diva Night'. This night is a fundraiser in aid of The Irish Cancer Society and is organised by Jules best friend, costume designer and right hand man Konrad Im as part of his birthday celebrations.
You have a huge knowledge of music get the balance just right between current and classic hits, when did your 'classic appreciation' begin?
Very Early! My love of music started almost immediately once I arrived into the world! My earliest memories are of sitting on the floor with my Fathers records listening to everything from Black Sabbath, Fleetwood Mac, Bowie to Kate Bush and Michael Jackson! My Mother had all the pop singles, Spandau Ballet, Haircut 100, Frankie Goes to Hollywood, so as you can imagine my taste in music is extremely varied! I just love music, all kinds and it shouldn't always be so serious! Music is meant to be fun too! People get too weighted in what's "in" or "real" if it speaks to you it speaks to you…enjoy it! Nostalgia is a very powerful tool on the dancefloor and that's why I keep the classics with me!
You DJ in Dublin at 'Crush' frequently now too, what are those nights like?
They are Brilliant! Crush is Emily Scanlan's baby and she has done fantastic job. It has really taken off, there is always a massive crowd, the atmosphere is electric, the venue (The Grand Social) is gritty but chic! It's just fun and fresh. The music is a bit of everything which suits me down to the ground! Personally I love to mix different genres. It's quite a challenge beat matching pop with electro but it's bloody fun! Yeah, I'm very proud to be their DJ, thank you CRUSH!
You are such a prominent fixture on the Cork scene, what are the biggest changes have you witnessed over the past few years
The obvious one is less choice with closure of venues which is sad to see, but in fairness, people like yourself Michael, are keeping it going with putting on themed nights and club events. In this time you need those nights to keep it fresh and it's great to see people within the community actively striving to create choice and keep the Cork scene alive. It's fantastic that we still have two great gay venues in Loafers and the Ruby Lounge and they should be proud of the support they have and we should be proud of our great little scene.
Tell us about your newly re launched Mother Monster Tribute Show?
We basically have renamed Jules Goes Gaga to Mother Monster and totally revamped the whole thing!! I never planned to become a Lady Gaga tribute act but, I was the first ever I believe to do it! 'Just Dance' was in the charts and 'Poker Face' was due for release, It was all for a Diva night in 'Instinct' and I thought it would be fun to do somebody nobody had ever seen before. I had no idea it would turn into Mother Monster, which is basically a big production show based on the Monster Ball, Lady Gaga's first world tour, with all of her biggest hits. We first performed it after a Jedward gig in Dunbrody two years ago in front 2,000 people and that was our debut! It landed me a contract with a big music agency and we did big gigs but with dancers moving away and the agency basically being d***s to deal with (pardon my French!) I decided I needed a break and would only start it up again with people who were dedicated to it 100%.
I got exactly that, Konrad Im designs my costumes and stage sets and he is just wonderful, so artistic and talented and no amount of work is too much, he loves what he does. Meghan Blyth of Donna's Dance Studio, one of the most talented choreographers alive, has taken on choreographing the whole show from start to finish and lent me her best dancers, resulting in an hour and half Monster Ball extravaganza!
We ended up supporting Jedward again only last month! It went so well that we have been hired to do our full show in the Neptune Stadium in September, so we are soooo excited and glad that the back breaking work paid off! People who have seen the Monster Ball will appreciate the atmosphere of the Mother Monster show. We have worked very hard to make it as close to being at a live concert as possible even using live drums and bass at some shows and I hope you enjoy it!
Have you any Jedward stories for us?
I'd love to dish the dirt but I don't think I can! Let me get permission first and we can make a whole other interview out of that!
The 'Diva Night' fundraiser that Konrad is organising sounds spectacular, can you tell us a little about what to expect from you and the other performers?
Well, host Letycha le Syn made her debut at the Cork Pride Parade this year and got a lot of attention!! Having spoken to her about what she will be performing I am very excited!! Everybody loves a bit of classy drag and she is one sassy classy lady! Karen Tynan is currently playing Rizzo in 'Grease' in the Opera House, she will be performing her All Star Tribute Act. If you've seen 'Grease' you will already know she has a fantastic pair of lungs and her tributes to Katy Perry and Rita Ora will definitely rock the place! She's a really experienced performer and always puts on a class energetic show. Me and the Mother Monster gang will be doing a snippet of our show, it's difficult to size it down but you'll get the idea of what we do! I'm really looking forward to it and everybody involved just wants to give Konrad our best for a great cause and of course his Birthday!
Any last words?
Off with your head, Dance 'til your dead!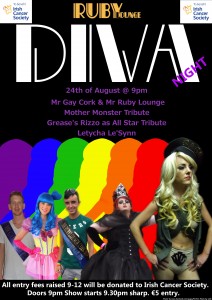 Diva Night – Ruby Lounge
Saturday 24th August
€5 entry fee on the night that will go directly to The Irish Cancer Society
DOORS OPEN 9pm
SHOW STARTS 9:30 Pm SHARP
Trackback from your site.