'Funk N Something' meets Veda Beaux Reves
Veda has been the reigning queen of Dublin's gay nightlight for over a decade, performing several times a week at The George. Since winning the title of 'Alternative Miss Ireland' back in 1999, Veda's weekly show Space 'N' Veda has become a staple of Dublin nightlife, attracting a devoted following and a trendy crowd of Dubliners and tourists alike. Veda's unique style and edgy performances have had audience raving, and kept them coming back for more. Combining fierce cabaret with innovative performance art, Veda's show has constantly pushed the boundaries of conventional drag to its limits. Veda continues to combine masterful drag renditions of well-known pop and rock classics with her own original music
1. Firstly congratulations on the success of both your album 'Star's Edge' and EP 'Transphibian' You must be so proud?
Yes, I guess so. I'm especially proud of 'Transphibian',  it contains two of my favourite tracks 'I Want To Live' with Gavin Friday was a dream come true and I'm very proud of 'Supermarche'
2. You have worked with some amazing people Gavin Friday, Scissors Sisters etc, who would your dream collaboration, be with?
I'm obsessed with a DJ called Jacques La Cont, I'd kill for a remix by him. I'd love to work with Roisin Murphy, Ana Matronic, Grace Jones, they are all heroines of mine.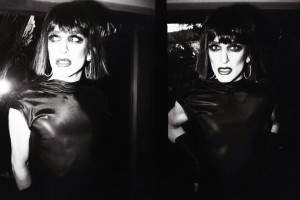 3. Space N Veda is still the coolest place to go in Dublin on a Wednesday night. What do you think is the secret to its success (besides yourself of course)?
Davina and I have great chemistry. The George is a fab venue. Most of all, I think it's because we work hard and always present new shit.
4. What other nights and venues would you recommend for visitors to Dublin?
Bingo is always brilliant on Sunday's in The George, maybe a little Sunday Social afters.'Saturgay's' is still the most fun Saturday night happening, I also love Mother. War is great if you're under thirty, I sadly am not. There's often great theatre in Dublin and great live shows too, we're lucky that way.
5. Your stage wardrobe is phenomenal, where is your favorite place to shop?
I design a lot of my stuff with Cyane Kingston, most of my special bits come from her.I work with a stylist called Jenvi sometimes too. Claire Garvey designs always looks the bomb on me and I've been lucky to be a muse of hers since my humble beginnings. I love vintage too, Flip, Find, Fancy's & Jenny Vander for a gander at the pre worn classics.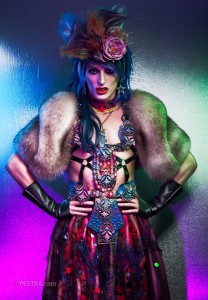 6. When did you first begin performing?
In 1997 at Tranny Shack in San Francisco. I've traveled oceans of time to find you.
7. As a Joan Crawford fan I've often wondered are you named 'Veda' after Ann Blyths character in 'Mildred Pierce'? 
Yes and Lord Vader and  the little dead girl from 'My Girl' It's Veda Beaux Reves, similar to "Fais de beaux rêves", have sweet dreams in french.
8. What Drag queens do you admire both nationally and internationally?
All of them! I adore drag. I admire anyone who does drag. They are, in my mind, freedom fighters.
9. We love when you visit us here in Cork; can you tell us more about your upcoming nights in the Savoy?
November 1st at 'Hollywood Halloween' in The Savoy, You're in for a fab and fun night. Excited to be working with Fabula at last, always had a thing for that queen. She's pure evil, I love that. I'm also very fond of Lucy Von Furr, can't wait to see what the horny bitch gets up to. Not to mention, my girl Davina will be there to glamour us!
10. Any last words?

You can have the last word, it's your show darlink!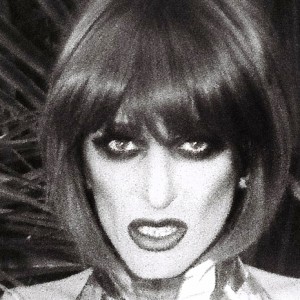 Veda is back in Cork for 'Hollywood Halloween' on Friday 1st November in the Savoy, special guests Fabula, Lucy, Davina and Foxy. It is going to be Spooktacular! Check the Savoy FB event for details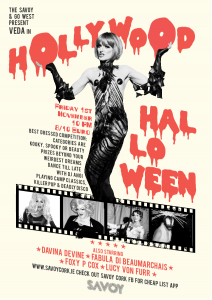 Find out more about Veda and download her music on her official site
www.vedabeauxreves.com
Tags: funk n something
Trackback from your site.