UCC LGBT's Ally Week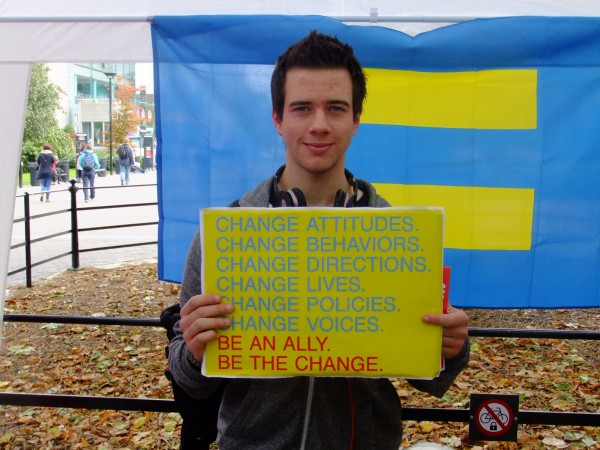 UCC LGBT's Ally week is taking place this year from Monday the 14th of October to Thursday the 17th of October
They describe Ally Week as "a week-long campaign where we seek to recognise the efforts of Allies, and to raise awareness as to how and why you might get involved." And they go on to desrcibe and Ally as "anybody who actively supports LGBT* people in all aspects, straight-identified or otherwise."
Here are the events that they have planned:
Monday:
1pm: Ally Week Launch with John Buttimer in Bearra, Student Centre and Launch of #askme campaign (more details below!)
7:30pm: Candle Lit Vigil, Keep Hope Alive in Russia with Choral Society and Hot Beverages Society where we have a minutes silence for the efforts of LGBT* activists in Russia, and those who are being victimised.
We'll also be on campus all day as part of our Video Allies section of Ally Week where we ask you to explain why you're an ally. Come along and join in the fun!
Tuesday:
We'll be focusing on our campus presence on Tuesday so we'll be taking Ally snapshots all day. Again, come along to show your support and have a bit of craic 🙂
Wednesday:
12pm: Lunch Possé meeting at Main Rest. Our M.O, Dylan, will be meeting people who want to grab a bite, have the lols and just chill out.
7pm: Ally Week Quiz in New Bar. Basically what it says on the tin, the quiz will run from 7 and will be a night of questions, healthy competitiveness and most of all good fun. There will be a social afterwards and we'll be heading to town so grab the smartest people you know and come along 🙂
Thursday:
1:20pm: Performance of Macklemore's "Same Love" with Dance Club and DJ Soc in the Amphitheatre. Our collaborators, Dance and DJ, will be pulling out all the stops to perform one of most famous (and catchiest) Ally anthems in recent memory, so pop by in between lectures and show your support!
7pm: Screening of "A Single Man" with Film Soc in Boole 2. For our last event of the week, we thought we'd kick back with a decent film after the business of the previous couple of days.
See HERE  for more info
Trackback from your site.