Official launch of Yes Equality Cork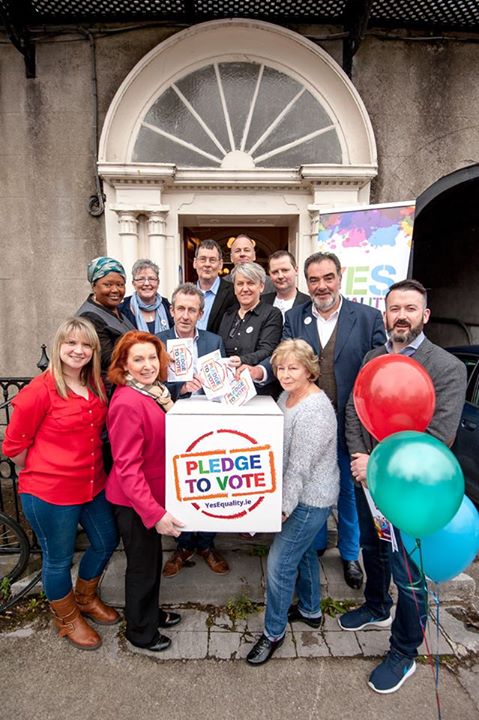 Yesterday afternoon in front of a packed audience of volunteers, friends and local public and community representatives including Minister Kathleen Lynch and Brian Sheehan and Kieran Rose representing Yes Equality's National Campaign for Civil Marriage; Yes Equality Cork held their official campaign launch.
The special guest at the event was actress and comedian Eilish O'Carroll aka Winnie from Mrs. Brown's Boys.She spoke passionately about her strong views on equality and fairness and he own ongoing "coming out journey" while at the same time she had the room captivated with her natural wit. Speaking personally she said she said "I want recognition, I have that from my sons, but I want that from society".  She can only get this recognition with a Yes vote.
The event was chaired by Joe Noonan, the Chairperson of Yes Equality Cork.  Speaking of the importance of a Yes vote Joe Noonan said "although this is a national referendum, we need to fight this at local level in every house, street and workplace especially here in Cork."He outlined what the plans of Yes Equality Cork are and how important fundraising is to help us make this happen.He added speaking at a personal level "Families are the heart of Irish society. This amendment will strengthen our families and our society.  A Yes result will show that we are open to embracing each member of our family and that we welcome the people they love. That we want to nurture each and every one of our children and young people and give them space to lead fulfilling lives".
There were a number of speakers on the day outlined their personal stories including Finn Murray, a father of two children living in Cork. He was raised by lesbian parents. He issued a challenge to those on the No side who try to suggest children raised with same sex parents will be some how not as well cared for or loved as any other kids.  He is now a 30 year old father of a boy and a girl and he is showing the same kind of love he himself was shown.  If anyone on the No side wants to take up his challenge, Yes Equality Cork will happily facilitate this!
One of the speakers, Rebecca Murphy who is a health promotion, equality and well being advocate said "I'm voting Yes because I believe that same sex couples should have the same rights as their straight friend and family, to enter into a loving union that is recognised equally by the state and the constitution.  On a personal note, I want to be able to marry the person I love regardless of their gender." She concluded "I believe Ireland has a chance to send a clear message to all its people that we are an equal, inclusive, welcoming and just nation and we should grab it with both hands"
The ceremony was book-ended with musical brilliance.  It began with a big screen showing of the new video for We Love The Same by Choral ConFusion, the proceeds of which go 100% towards the campaign and The ceremony concluded with a show stopping performance by Chicago born, but now living in Cork Karen Underwood singing some numbers from her recent "Of Ladies Lost and Found Tour" She like all the others on stage and in attendance is a strong advocate of Marriage Equality.  She believes we all should have the right to marry the one we love regardless of their gender.
Trackback from your site.