Dr Christian Morretti – Mr Gay Limerick
The 12th Annual Mr Gay Ireland Final will take place on 4th of March in Chambers Bar, Washington Street. This is the competition's first final outside Dublin to celebrate the hard work of reigning champion Cork's Konrad Im. To date Mr Gay Ireland has raised €153000 for HIV and gay causes and previous national winners have carried off the World and European titles. We've been giving first access to ask this years contestants a few questions before they arrive from all over Ireland to Cork City next weekend.
Where and when were you born?
I was born in Italy on the 9th of February 1984, on a snowy day apparently (would you believe it? In sunny Italy?)
Where do you live now, and with whom?
I live in Limerick city with my fianceè, my three dogs and my tropical fishes. It is basically a zoo and I love it.
Describe the place and the person/people.
We live in a terraced house, with two gardens covered in multicoloured roses. My fiancè is Irish and loves Italians (of course lol) and my three dogs: Pixie, Coco and Rose are the real bosses of the house. The fishes are tropical species and are of different colours.
What is your occupation?
Secondary school Teacher of Italian, Spanish and SPHE. I am also a published novelist and poet, I work as a journalist for an LGBT news website in Italy and I am a LGBTQI+ activist.
What do you have in your pockets?
My phone, some coins and my e-cigarette
What was the last song you sang when no one else was around?
Tears by Clean Bandits
As a child, what did you want to be when you grew up?
I wanted to be a dancer, a tv presenter, a journalist and/or politician. Pretty down to earth isn't it? And the funny thing is that I wanted to be all of the above at the same time! Sure, why not?
When and with whom was your first kiss?
With a girl! And in that exact moment I realised it was not for me.
Who has had the most influence on you?
My mother and my late grandfather.
What do you consider your greatest achievement?
My Phd, my novels being published, Mr Gay Limerick and being able to communicate with young people on different issues.
What things are most important to you now? Why?
Love because life without love is just existing.
Friends because they keep me on track when I go too far.
Equality because it is the foundation of all healthy and successful societies.
My pets because I would be lost without them.
My writing because it is an important channel to express my intimacy and my feelings towards the world.
My students because they amaze me everyday with their understanding of life.
Who do you trust and depend on?
I trust blindly my fiancé and my pets, I know that they have unconditional love towards me like I have for them. I depend on myself, I know my skills and I trust my soul to always follow the path that is right for everyone.
Are you basically optimistic or pessimistic?
Optimistic, definitely!
Do you believe in the existence of soul mates and/or true love?
Absolutely! Whether in partnership or friendship, we connect to people in a visceral way sometimes, we just need to let ourselves go with that, there is nothing wrong in it.
What do you believe makes a successful life?
Believing in yourself, celebrating your existence in every form, kindness towards others, having dreams and make the impossible to make them come true.
What is your favorite kind of music?
Pop and indie rock. I love Lady Gaga, spice girls and…. I adore (in every possible way) Ronan Keating (I know, right?)
What scares you?
Being alone,
Spiders,
Losing my loved ones
Hugs or Kisses?
Kisses, are you joking? I am Mediterranean and we are very passionate. Lol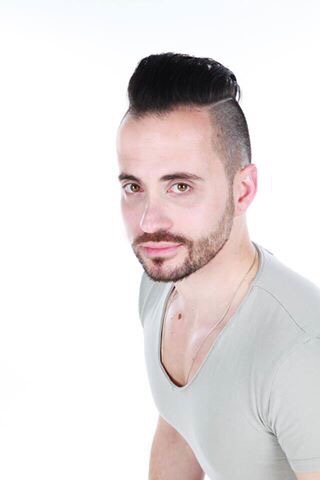 Who is the most important person in your life, and why?
My fiancé and my mother. They are always there to support me and to love me even if I have my down moments.
How close are you to your family?
Extremely
Do you care what others think of you?
No, I really don't. I take constructive criticism on board because I believe that being self-centred will lead you the wrong way sometimes. However, I do not care about malicious gossips and/or comments. I am sure about what I do and who I am and I am really happy about it.
What is/are your favorite hobbies and pastimes?
I adore writing, reading, running, photography, gym and cuddling 🙂
What is your most treasured possession?
My mind, I do a lot of things with it, it motivates me greatly and never lets me down.
How do you spend a typical Saturday night?
I go out with my fiancé, we meet our friends in our local Gay bar and I dance the night away. It is a great workout, you know?
What makes you laugh?
Gary and my dogs. We are messing all the time and we make fun of ourselves. The dogs are also hilarious, they have different attitudes.
What, if anything, shocks or offends you?
Rudeness, lack of respect, narrow minded people and any form of homo-transphobia
Are you spontaneous, or do you always need to have a plan?
I am very spontaneous, too much sometimes.
Do you like to dance?
Are you kidding me? It is my life!!!
Describe the routine of a normal day for you. How do you feel when this routine is disrupted?
I wake up at seven, cuddle and feed the dogs, I have my porridge with raspberries and walnuts, I have my shower, run to work (I am always on time despite the holy show I put on), have my classes and then come back home, I go to the gym and after that I relax reading or writing. I do not freak out if my routine is disrupted because I love being surprised by life. I am a strong believer that everything is part of a specific equilibrium and things happen for a reason.
If you could change one thing about yourself, what would it be?
I would change my wide Mediterranean hips lol
Are you generally organized or messy?
Very organised.
Name three things you consider yourself to be very good at, and three things you consider yourself to be very bad at.
Good – writing, speaking different languages, dancing
Bad – maths ( I am terrible at it), drawing and painting
What goal do you most want to accomplish in your lifetime?
I am really determined to make youngsters life better, I want to educate people about equality and discrimination. I want to engage with ordinary people as well as institutions to wipe out discrimination on every level, promote equality and kindness. I think that education is the key to everything.
Where do you see yourself in 5 years?
I see myself into politics
What three words best describe your personality?
Determined, strong, compassionate
What three words would others probably use to describe you?
Determined, funny, adorable ( I have actually surveyed people on this).
If you were to choose a new name for yourself, what would it be?
Why would I change my name? Christian? Grey?….. Hello?? Lol
What do you do for fun?
Dance and socialising
What do you do most often when you are bored?
Read
What is something that you are really proud of and why?
My PhD, my books, being Mr Gay Limerick
Why did you enter Mr Gay Ireland 2017?
Because I really want to make a difference in Ireland. I love this country so much and I would like to be actively involved in campaigning and educating the whole community. I want to make my voice heard, I want to have the chance to engage with the government on issues like discrimination in the schools and the workplace, STIs, HIV/ AIDS, legislations on equality. I want to be the representative of a community that has been compromising for too long on freedom and happiness.
How does it feel to be Mr Gay Limerick 2017?
It has been an amazing honour for me to work closely with people. I have had the chance to be engaged in numerous projects such as the the Purple up rally against women violence, sponsoring free HIV testing, running a series of personal, sexual and emotional help workshops for youngsters, fundraising and creating awareness for suicide prevention, campaigning proactively for LGBTQI+ rights, fundraising and creating HIV/AIDS awareness. It has been an amazing year for me. I have had to face a lot of discrimination as well unfortunately but this made me go even further with my objectives, so I am grateful for it because it made understand that if we only want to, we can achieve amazing things and that steep mountains are only there to motivate you to reach the top and then fly high.
If you won Mr Gay Ireland 2017 how would you feel and what would you use the platform for?
I would feel absolutely thrilled and I would use this platform to continue the work that I have had started. I would take it to a completely different level, I would like the politicians to hear our voices, our concerns, our anxieties. I am not one that contemplates compromises easily, I will fight until the community gets answers and above all, clear and unambiguous actions.
Any ideas / plans to make you stand out in the upcoming Mr Gay Ireland final in Cork?
I am an activist with a long experience and I hope the judges and the audience will see how passionate and committed I am about the LGBTQI community.
Finally is there anything else you like to say?
Yes, I just would like to add that it is a great honour to be competing in Mr Gay Ireland 2017 with such a formidable group of contestants. They have all been working really hard and I am absolutely humbled.
For more information about how to support Christian Moretti and to continue following their progress head over to 
Twitter: @chrisgmoretti
Instagram: mr_gay_limerick1617
Trackback from your site.