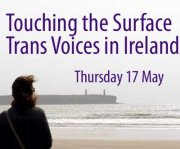 The Cork launch of Teni's landmark publication 'Touching the Surface: Trans Voices in Ireland' will be launched on 19 May 2012 by the Deputy Lord Mayor of Cork, in Shine on Washington, Cork City.
The event will include readings, performances, photo exhibition and much more!
This exciting new publication celebrates trans experiences from across Ireland. Over 35 individuals contributed to this collection, reflecting the personal, political and creative spheres of trans people across the country.
This event is part of Cork City Council Social Inclusion Week and also marks IDAHOT – the International Day Against Homophobia and Transphobia.
For more info see here or contact office@teni.ie or ben@teni.ie.