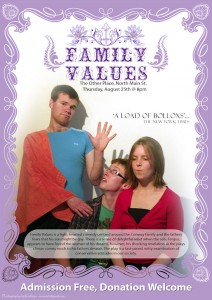 8pm on Thursday, 25th August at the Other Place. Admission is FREE
Family Values is a lighted-hearted comedy centred around the Conway family and the fathers's fear that his son might be gay.
There is a sense of delightful relief when the son, Fergus, appears to have found the woman of his dreams, however, his shocking relevation at the plays climax comes much to his fathers despair.
The play is a fast paced, witty examination of conservative attitudes in our society.