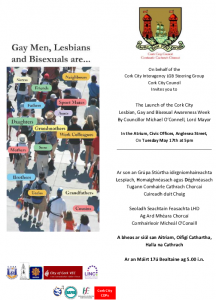 Cork's L.G.B. Awareness week to celebrate I.D.A.H.O
(International day against homophobia)
www.dayagainsthomophobia.org
This year to celebrate I.D.A.H.O. Cork City Council will launch its first ever LGB Awareness Week (may 16th-22nd). The week will be primarily about raising awareness about how gay, lesbian and bisexual people form part if the fabric of every aspect of life in Cork.
The Lord Mayor will launch this week on I.D.A.H.O. day itself, the 17th May at 5pm in the City Hall and ALL are welcome to the launch.
Also throughout the week you will be aware of a number of posters, flyers, displays and events throughout the city.
When developing their strategic plan for the city (Imagine our Future) Cork City development Board worked with the gay and lesbian organisations in Cork (LINC and The Cork Gay Project) to ensure the strategic plan took into account the vibrant lesbian and gay communities that exist in the City. Cork has a long and proud tradition of lesbian
and gay activism and this continued with the inclusion of "Objective 86" in the 10 year plan. Objective 86 clearly states that
"The Gay, Lesbian and bisexual communities will be enabled to fully participate in the social, cultural and economic life of Cork City"
To that end an interagency group of the relevant social partners was set up and led by the City Development Board (CDB). This group has met on a regular basis since and have delivered a number of training and awareness raising actions.
The message of the week is really quite simple, lesbians, gay men and bisexuals are your family members, team mates, co-workers, neighbours, and residents and visitors to Cork.
As such they contribute in no small way to the image of Cork as a vibrant, open and welcoming City which is an attractive place to work, live and visit no matter what your sexuality.
For more information contact David Roche
info@gayprojectcork.com
0876381578.
Toddy Hogan
info@linc.ie
021 4808600