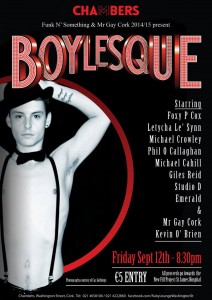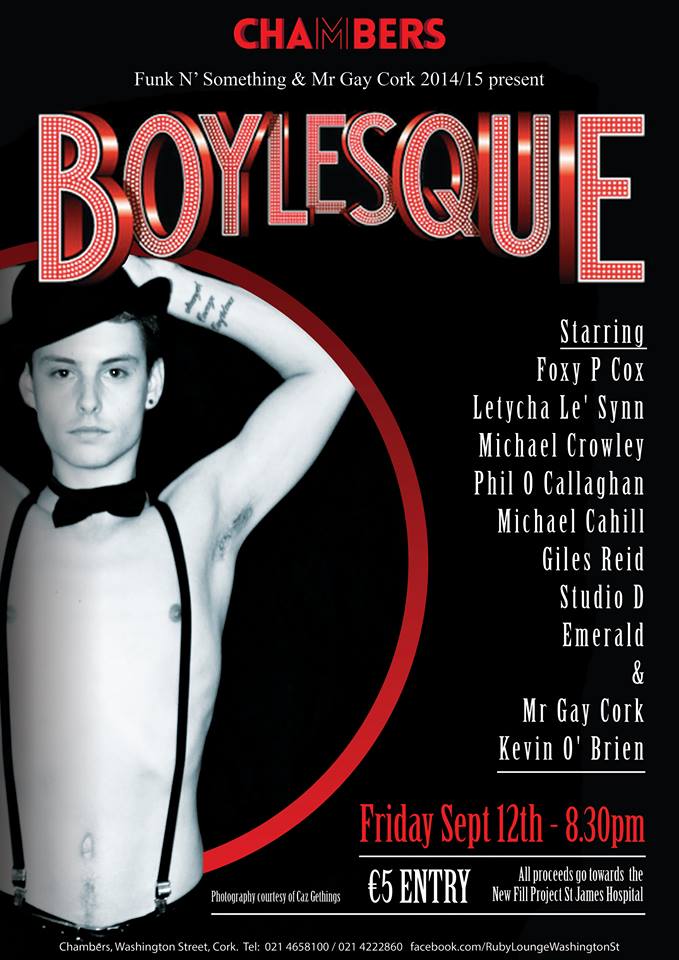 'Funk N Something' and 'Mr Gay Cork 2014/15 

Present

'Boy-lesque'

Featuring:
Foxy P.Cox
Letycha Le'Synn
Michael Crowley
Phil O' Callaghan
Michael Cahill
Giles Reid
Emerald
Studio D 

AND

Mr.Gay Cork – Kevin O Brien

Chambers
Friday Sept 12
8.30 PM
€5
Mr Gay Ireland and Mr Gay Northern Ireland is now in its tenth year. The all-island event promotes visibility for young gay people, and safe sex awareness, in cities, towns and communities. Over the past few years, contestants have exclusively fundraised for the New Fill HIV facial reconstruction service at St James Hospital Dublin and to date contestants have donated 145,000 euros to HIV and gay causes. 
The selection heat for Mr Gay Cork was organised and hosted recently by Giles Reid and Cher Guevera in Chambers of Washington Street. The winner was decided by public vote and by a panel of celebrity judges including Peter Kelly (Weddings by Franc) and Eilish O Carroll (Winnie from Mrs Brown boys), Fabula Di Beaumarchais (first ever Alternative Miss Cork winner) and Brian Merriman (Executive Producer of Mr Gay Ireland)
Kevin O'Brien was chosen to represent Cork at this years Grand Final which takes place on the October weekend at The Gibson Hotel, Dublin
As part of his fundraising effort Kevin has organised this event with the gang from 'Funk N Something'