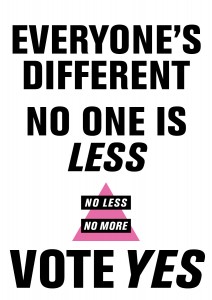 I'm the child of a single parent. My best friends growing up, most of them had two parents that were married to each other, but it's all I've ever really known. My father was an alcoholic, and my mother left him when I was seven years old. He reacted by throwing me, my mother and my two sisters and two brothers out of what he viewed as "his" house. My godmother welcomed us all into her home for a few months while the legality of that was sorted out.
Once we were back in the house, my childless paternal uncle who lived across from us and looked after us as if we were his own, and continued to be a huge part in our lives despite my parents' separation. People always asked me was it weird not having a father in my life, and it completely confused me that they were asking that. It was obvious to me that my father was a person that it was very much a good thing not to have in my life, while my uncle fulfilled all the roles that are typical of a dad, and then some! So, I wasn't left lacking, if anything I thought other people might be missing out not having an awesome uncle that takes them fishing in a boat, teaches them how to makes things in a workshop, and sings wherever he goes.
Flash forward a few years. My cousin was diagnosed with Hodgkin's lymphoma. She'd just had a little baby boy and needed to start aggressive chemotherapy. My mother stepped up and added this little boy to our family. We fed him, clothed him, played games with him, and took him to the hospital to see his mother. He called my mother "Mammy" and his mother, "Mummy". That story didn't have a happy ending, but that baby boy grew up with his loving father and visits us where my mother still treats him like one of her own.
Flash forward a few years more. My sister gives birth to a baby girl, but faces motherhood as a young single parent. But again, my mother steps up and helps her daughter to raise this little leanabh. My sister eventually rekindles a relationship with a guy she was seeing previously, and he takes her daughter on as if she was his own. He and my sister eventually have another daughter several years later, and she's most awesome! My uncle of course, dotes on these children as if they are his grandchildren.
Flash forward another couple of years. My eldest brother briefly started seeing a local woman. It didn't work out, and they broke up. A month or two later though, it turns out she was pregnant. My brother didn't even hesitate and agreed to stand by her and be as involved as she wanted him to be in the child's life. So another niece was born, and she'd come to stay with us every Friday night. Despite her parents not being in a relationship with each other, she was loved just as much.
Flash forward ten years. In that time, my older sister and her partner ended their relationship, but worked together to make sure the girls were well looked after. They both fell in love with other people over time who accepted my nieces as part of the whole package. My eldest brother got married to a lovely woman from the local Gaelteacht, and his daughter was still visiting every Friday, and bringing her mother's other daughter too, who was just as welcomed as part of the family. My younger sister fell pregnant and it was looking like she was doing it solo. She gave birth to my first and so far only nephew, the first boy in the family since me. A soccer-crazed little messer that decided to follow Liverpool purely so he could torment my mostly Man Utd household. My older sister's new boyfriend, just as soccer mad, gets on like a house on fire with him too. Once again, my mother and uncle supported her so she wouldn't be alone. I went through a mildly angsty teens where I struggled with accepting my sexuality, but made it through the other side happy and accepted as a gay man studying science at University College Cork.
Flash forward a couple of years more. My uncle has had a heart attack and we're all panicking. My nephew who is thick as thieves with him doesn't understand what's going on; why isn't he bringing me out on his bicycle, where is he? Thankfully he makes a miraculous recovery in no time flat though, and says that it's because he has too much to live for with those little grand nieces and grand nephew waiting for him at home. I fall in love with Wexford man, who is welcomed into my family as much as I am to his. My brother and his wife have a child, but thanks to lack of work in Ireland, he has to move to Canada to work so he can support them – a familiar story for a lot of Irish people. My eldest niece falls pregnant and gives birth to a son, my adorable little grand nephew. This is a complicated one, but my older sister ends up raising him. My sister isn't alone though, as her fiancé is there for this little baby too, changing nappies, feeding him, and loving him as his own.
Now. My point. You don't need biology to be a mammy or a daddy. Blood is thicker than water, but love is thicker than blood. My future brother-in-law is working hard to support my sister, her daughters, and her grandson despite no biological link. My mother raised five happy and healthy children that she needed to, and added an extra few children on to that even though she didn't have to. My incredible uncle raised the five of us in my nuclear family, and is still doing the same thing with the whole generation of his four grand nieces, one grand nephew, and his great grand nephew too; none of which he needs to do. Families, aren't just a mother and a father and 2.5 children. They're a group of people that look out for one another and make sure each other are supported no matter what. The children of single parents aren't automatically deprived of something, nor the children of same-sex parents, because this is what the greater Irish family is all about. People used to be uncomfortable with talking about the fact that my parents were separated and would trip over their words when referring to my parents, but that's not the case anymore because people don't automatically assume one type of family anymore. On May 22nd, acknowledge in our constitution that Irish families come in all shapes and sizes, so that I can add my own family with my beloved partner to my greater Irish family.