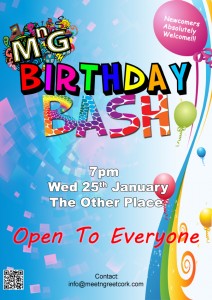 This month, we will be have a Party Games Night to celebrate our second birthday on Wed,  Jan 25th in The Other Place.
As always, the event is open to everyone and newcomers are absolutely welcome.
We'll be playing a range of well known games, and some more obscure stuff.This is a nice way to meet people in a relaxed atmosphere, so come along and join in.
There is a €2 charge, which goes towards the upkeep of the venue.